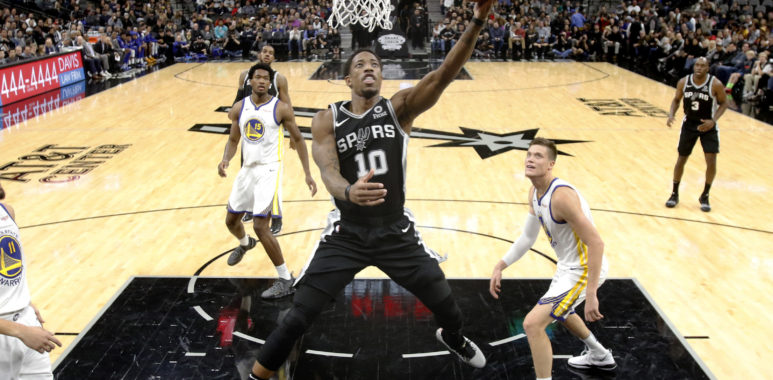 Breaking Down the Spurs' Victory over the Shorthanded Warriors
The San Antonio Spurs played arguably their best game of the season on Sunday, downing the Golden State Warriors 104-92. San Antonio moved its record to 8-7 and is now ninth place in the airtight Western Conference standings.
The Spurs aren't the team they have been in recent years, and the Warriors were minus Stephen Curry and Draymond Green, but this game still had notable storylines. Let's break down the contest from a Spurs perspective.
3 Observations
The effort level was fantastic
The Spurs have struggled with effort and many points in their losses, especially defensively. They've frequently reacted slowly to the ball. There have been at least a handful of "how did he get that open?" moments for the opponent in almost every Spurs game this season.
San Antonio came out with the right intensity in this game, though.
Defensively, the Spurs navigated screens well, rotated crisply and got their hands on a number of balls. The Warriors were stuck taking difficult jump shots most of the night. Rudy Gay and Derrick White stuck out as two of the most impactful defenders from the contest. Gay and White did a great job limiting Kevin Durant and Klay Thompson, respectively, with hard work on defense. The Warriors' two healthy All-Stars knocked down just 14 of their 41 combined jump-shot attempts, including four of their 19 three-point attempts.
On the whole, only eight of Golden State's 85 field-goal attempts were wide open (9.4 percent). Heading into the game, that percentage was 20.4. The absences of Stephen Curry and Draymond Green affected that some, but the Spurs' defense deserves a lot of credit.
LaMarcus Aldridge and Jakob Poeltl were both loads to deal with on the offensive glass, too. They had a combined 10 offensive rebounds and also drew a few loose-ball fouls. Golden State's undersized bigs struggled boxing them out all game.
Changing the starting lineup worked
For the first time in six games, Derrick White didn't start for the Spurs. Gregg Popovich replaced him with Rudy Gay and it worked like a charm.
After Gay's first eight minutes of playing time, he had already racked up 12 points on 5-of-5 shooting. One of those baskets was this robust slam.
Gay scored only seven points the rest of the way to end with 19 points. However, he added three blocks and made all three of his shots from behind the arc. His defense was solid on Durant. All in all, the lineup move seemed to invigorate the 32-year-old forward.
LaMarcus Aldridge didn't look affected by his recent offensive struggles
Aldridge has been really bad on offense this season. I wrote about it here at BBall Index over the weekend.
He took some steps in the right direction against the Warriors. I'm still not wild about the number of midrange jumpers he's attempting, but at least he began by first establishing himself inside on Monday. He pinned his man under the basket a few times and patiently worked for hooks and other close finishes. Once he was comfortable, he moved outside for a few jumpers.
Maybe more importantly, the six-time All-Star also set the tone with his overall effort. His 18 rebounds, two blocks and otherwise active rim protection helped hold the Warriors to an opponent season low of 36 points in the paint, per Project Spurs' Paul Garcia.
2 Questions
What's keeping the Spurs from playing defense like this more often?
The Spurs and their fans have to be satisfied with how hard the team played in this game. The defense was especially excellent.
But it's also kind of bittersweet.
Where was this effort in the blowout loss against the Suns? Where was it in the bad home losses against the Magic and Pacers, or in the squandered game against the cold-shooting Heat?
San Antonio clearly had this Warriors game circled on the calendar and came ready to play from the opening tip. That's great. But if they're still aiming for a playoff spot, they can't afford to sleepwalk their way through big chunks of games. The rest of the league is just too talented, especially the West.
How can the Spurs keep Derrick White in a consistent role?
White wasn't fitting well in the starting lineup prior to his move to the bench on Monday. With DeMar DeRozan's ball-handling and LaMarcus Aldridge's post-ups using a lot of possessions, the combo guard couldn't find a place for his abilities off the dribble.
Against the Warriors, he played just 18 minutes in reserve. He had averaged 25.5 minutes in the previous four contests.
It's not saying much, but White is the Spurs' best healthy perimeter defender by a significant margin. He also offers creation off the dribble that Bryn Forbes, Patty Mills and Marco Belinelli can't match.
White's abilities are too essential to the current roster for him to stay at 18 minutes, even though he's been struggling recently. Somehow, he and the Spurs need to find a role that maximizes his skills and the team's ability to compete.
1 Prediction
Gregg Popovich will get more conservative with minutes as the season progresses
DeRozan and Aldridge both played 40 minutes on Monday. They're now averaging 37.2 and 35.5 minutes per game, respectively. Those averages rank second and ninth in the NBA.
You have to go all the way back to Tim Duncan's second MVP season in 2002-03 to find a Spur ranked in the top 25 of minutes per game. Even then, Duncan was only 18th in the league.
Pop is making a very concerted effort to get Aldridge and DeRozan acclimated to each other. San Antonio has also played plenty of tight games and has had bad injury luck.
Once Pau Gasol, Davis Bertans and Lonnie Walker all return from their injuries, expect the Spurs' star duo to settle into the 32-to-34 minutes per game range.
Note: Statistics are courtesy of NBA.com. Video is courtesy of NBATV's Twitter account. 
Photo by Ronald Cortes/Getty Images