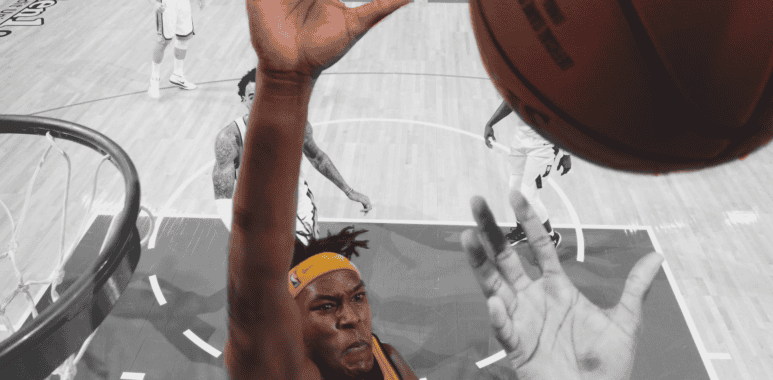 His Time Is Now – Myles Turner Is a Legit Defensive Player of the Year Candidate
It's time to seriously consider Myles Turner as a defensive player of the year candidate.
A Defensive Player of the Year is a player who is so skilled, talented, and impactful that they can carry a team to a victory with their defense, much like other players can do with their offense. There are only a handful of these players in the entire NBA. Indiana Pacers center Myles Turner has become one of them.
Turner is leading the entire NBA in D-PIPM at +3.0 as of January 3rd. He's ahead of last years DPOY winner Rudy Gobert. This isn't a fluke. Myles Turner's impact on the defensive end of the floor is legit, and he is buoying the Pacers on that end of the floor.
Indiana is able to often times play drop coverage on pick-and-rolls because they know Turner can hold his own in any given situation. Drop coverage, for those unfamiliar, is exactly what it sounds like: the defender guarding the player setting the pick (Turner, in this case) drops to a level below the screen and stays with the ball handler until the ball handlers matchup can recover. The goal is to keep Turner between both the ball and rim while simultaneously not allowing the roll man to get below him. Dylan Murphy summed it up tremendously here, but just watch this example:
Turner is incredible at these coverages, and defending pick and rolls is a forte of his. When defending the roll man, Turner concedes 0.837 points per possession per Synergy. That is good for the 69th percentile, or better than 69% of his NBA peers. When defending the ball handler, Myles allows 0.727 points per possession, which is excellent. He swallows up both options on his own – and given that the PnR is a staple of literally every NBA offense – having an anchor that can singlehandedly slow it down is huge for the Pacers.
Deterring common actions is just part of what makes Turner so great on the less glamorous end of the floor. Shutting down anyone who comes around the rim is another big part of it.
Myles Turner is elite around the basket. "Rim protector" is thrown around way too frequently to describe NBA players with high block numbers. But Myles Turner is actually a rim protector. Beyond the blocks – he halts post-ups, he deters players from even shooting, and he forces players to miss. Basically, going at him around the tin is a death sentence.
Turner currently grades out in the 92nd percentile defending post-ups per Synergy. He's only allowed 27 points on 48 shots when defending post-ups, which computes to a minuscule 0.562 PPP. Our BBall Index Interior Defense metric reflects all of this, where he grades out with an "A" vs all players and an "A" vs his peer bigs this season (min. 500 MP).
Turner gets into post players the second they catch the ball on the low block. He puts his body low and keeps his forearm in the back on his matchup, and his quick feet and hands let him stifle opponents when they face up. He is impossibly hard to score on:
Part of Turner's defensive impact goes beyond him defending shots and instead can be seen in the things he doesn't allow to happen. Opponents frequently drive at the basket only to see Myles lurking in their path on the way to the rim. They are forced to pass out of their drive instead of attempting to get a shot around the basket:
And when they do try and shoot, woo boy, that is a mistake. From 6 feet and in, with Turner as the primary defender, opponents shoot 9.1 percent worse than expected given their shot profile and shooting percentages. That figure is top-5 in the league for guys who defend the basket as much as Turner does. And that is on over 8 shot attempts per game – essentially, Turner forces one extra miss more around the rim than the average player would every game. Imagine starting off every game up by 2. That is what his rim protection alone (not counting his other skills) offers on from simply forcing misses, that doesn't even account for all the previously mentioned shots that don't even happen or shots that occur farther than 6 feet from the basket.
And let's face it, to win any NBA award you need some highlights. Granted, this is far less important for a DPOY than other awards, but it certainly helps the narrative. Rudy Gobert would completely swallow someone up like 5x a month last year. It was a joy.
Myles Turner has no problem with the highlights. His blocks speak for themselves. All 2.9 per game of them, a mark that would have led the league each of the prior two seasons. And it leads the league this year, too.
Not only does he lead the league, but he's also the only guy with over 90 of them. Actually, he has over 100 – he's gotten at least one block in every Pacers game this season.
Blocks are often correlated with rim protection. To an extent, they should be. 62.1 percent of Turner's blocks have come at the rim. But that isn't the only area where Turner is pulverizing opponents shots. That is just the precipice.
In the short mid-range, Turner is showing off the improved intricacies of his defensive skills. He has 35 blocks in this area (4-14 feet), which is already a career-high after just 37 games. He is mastering his footwork and showing off an improved knowledge of the angles and positioning that are required to defend farther from the rim.
This is why Turner should be vaulted into the DPOY discussion. Beyond refining his already electric rim protection, he is now extinguishing opponents out to 15 feet, and we are getting effective plays like this as a result, where Turner can shut down dudes one on one from longer distances:
That block was recovered by the Pacers, who then pushed in transition. That is a theme. Indiana recovers the ball on 69.9 percent of Turner's blocks, easily the highest rate of Turner's career. He has improved at a subtlety: getting the block AND the rebound – a skill combo that escaped him for the first three seasons of his career.
And it is a good thing they get recovered, too. After the Pacers block a shot at the rim, they have a 138.7 offensive rating on the ensuing possession (86 points of 62 trips down the floor), and absurd mark. Granted, not all of these blocks come from Turner, but over half of them are from the result of his smackdowns – he has 64 of the Pacers 119 blocks at the basket this year. His defense leads to easy offense, a useless argument for DPOY but a useful point when preaching how his defense helps the team on both ends of the floor.
Myles Turner just gets it now. All the yoga and weightlifting he participated in this offseason has made him more nimble while also making him stronger – the perfect combination he needed to refine his defensive game. The Pacers defense allows a hair over 103 points per 100 possessions when Turner is on the floor, an insane figure in this day and age. He is the anchor of the leagues second best defense, capable of altering a game by patrolling a 15-foot radius away from the rim. Add his name to the list: Myles Turner is a real, legitimate Defensive Player of the Year candidate.