It's award season, so the Basketball Index staff got together recently to decide who our official award winners are this year. We'll continue tweeting out individual awards, such as our Most Improved Player and Defensive Player of the Year picks, but also wanted to highlight team picks and dig into the reasoning behind them a bit more in written form.
We'll be digging into All-Defensive teams with our time today! There are 5 total teams we'll be sharing:
1st team, 2nd team, and 3rd team All-Defense with traditional positions
1st team and 2nd team All-Defensive Role picks, using our defensive roles that much more accurately capture player jobs than traditional positions or position groups.
Voters have a TOUGH job in voting on these awards. If they watched only 10 games per player, that's the same % of the season as watching ~half of 1 quarter of a player in a game and trying to judge their whole game on that tiny sample you saw. Watching enough games to evaluate 5 teams with representative samples is hard to do. For 30 teams it's just not realistic. At the end of the day, narratives drive a lot of award picks and data needs to be utilized to help shorten the massive volume of film needed to evaluate players.
For us, we'll lean on the data. When making these picks it's important to have a process. We're a data company, so we'll have a nice straightforward process that guides us to picks while having various tiebreakers in cases where data points are close. Narratives don't matter to us. These stats didn't watch their favorite team more than others and neglect to see teams not on national TV or with poor records less often than others.
No stat is perfect, but ours do a nice job evaluating player performance, tend to have strong face validity, and will evaluate players consistently.
If you want to check out the data used for these selections, make sure to check out our LEBRON Database or Leaderboards Tool. You can read about our LEBRON data at our LEBRON Introduction page.
Here's how we're deciding picks:
D-LEBRON Defensive Points Saved (DPS) is the main criterion. This metric estimates aggregate defensive impact for each player for the season, and we'll use it over D-LEBRON on its own so we're rewarding sustained excellence over high minute volumes rather than having low minute but high impact defenders steal spots from more deserving players. But in cases where DPS is close, we go next to
D-LEBRON, which evaluates defensive impact per 100 possessions. If 2 players have had about the same aggregate impact, but one has been substantially better per 100 possessions but has just played fewer minutes on the season, we'll lean towards the guy with that larger per possession impact. This materializes with common sense picks, and with how it's executed we still aren't seeing those low minute guys take spots. For cases where DPS and D-LEBRON are both tight, we then move to
Matchup Difficulty and Defensive Role to capture the player's job. If two guys have had the ~same impact but one has done so in a Low Activity role hiding on defense and another has done so in a Wing Stopper role, taking on the best of the best and excelling while doing so, we'll reward the player in the tougher job.
These awards at their core are about impact, and we feel this set of criteria best captures that. Rather than creating arbitrary minutes cutoffs or trying to guestimate how two players with 200-300 minute differences should be weighted based on their impact difference, which is either bad process or some mental math that ends up often looking sketchy, we'll lean on stats that capture what voters are attempting to capture in a consistent way across all 30 teams.
So without further ado, here are this season's picks:
BBI's 1st Team All-Defense


G: Matisse Thybulle: Thybulle was 1st in our On Ball Defense metric, 1st in our Passing Lane Defense metric (rate of deflections + intercepted passes), and was 1 of 2 players this season with top 10% ratings in our 2013-22 database for our Matchup Difficulty (99%), On-Ball Defense (97%), and Ball Handler Screen Defense (98%) metrics. Thybulle was also in the 97th percentile of our database for our Off-Ball Chaser metric.
G: Lonzo Ball: Ball had an injury-shortened season but the time he did spend on the court amounted to the best defensive guard in the league according to D-LEBRON. His impact was high enough on high enough volume that he's still deserving of a 1st team spot based on his aggregate impact. Lonzo was 1 of 2 players this season with top 10% ratings in our 2013-22 database for our Matchup Difficulty (97%), On-Ball Defense (90%), and Ball Handler Screen Defense (93%) metrics.
F: Jaren Jackson Jr.: JJJ had a breakout year, finishing 6th in D-LEBRON, after missing almost all of last year due to injury. He was 5th in our Rim Protection metric, establishing himself as an elite paint presence. He also showed versatility as a defender, finishing in the 75th percentile among bigs in our On-Ball Defense metric. 44.14% of the 2-pointers he contested resulted in blocks, which ranked 3rd this season among Bigs.
F: Evan Mobley: Mobley is a rookie on our First Team All-Defense. Again, Evan Mobley is a rookie on our First Team All-Defense! He's a future star with a parking spot reserved in the All-Defensive Team lot for the next decade.
C: Rudy Gobert: At this point, Rudy Gobert's name should be laminated on the first team. The best paint protector of the last decade just keeps rolling, another day at the office….punching in at the time clock…. Same as it ever was. But in addition to that, he's had a career year in the dFG% disruption vs expected from opponents, holding opponents to a FG% at the rim 13.39% lower than expected (while also accounting for who that player was). He also had a career year in our On-Ball Defense metric and with his Screener Mobile Defense rating as well. Elite rim protection along with improved mobility materialized into the top defensive impact in the NBA this season, earning Gobert our DPOY award and a spot on the 1st team.
BBI's 2nd Team All-Defense

G: Marus Smart: Smart is among the NBA's best when it came to taking charges and recovering loose balls, we saw Smart's impact both in steals, deflections, and fouls drawn. His performance in our Matchup Difficulty, On-Ball Defense, Ball Handler Screen Defense, and Off-Ball Chaser Defense metrics are all strong, albeit have each dropped to either the lowest or second lowest levels in years. Strong defense on high minutes materialized in his DPS and earned him a spot on this second team. He's been a key cog in the Boston defensive machine, but our data wouldn't support a DPOY pick for Smart.
G: Kyle Lowry: Yes, Kyle Lowry. Lowry's value stems from his off-ball skill set rather than more traditional ways (ala Marcus Smart). He ranked 3rd in our Defensive Positional Versatility metric among guards. His communication abilities and IQ are evident in his play, and help Miami be even better when he's on-court at snuffing out actions and rotating to negate advantages. Reviewing his film makes it clear how elite he is as a rotator, which materializes well with his 3rd ranking in charges taken. He'a also a very active glass crasher, which for his position is differentiating and ranked 3rd highest among PGs in the Point of Attack defender role.
F: Robert Covington: Covington is a darling of the analytics community. He has an A grade in the following metrics: Picket Pocket Rating (on-ball steals), Passing Lane Defense (rate of deflections + intercepted passes), Rim Protection, & Defensive Positional Versatility. He is an elite off-ball defender and defensive playmaker.
F: Herb Jones: Jones is the second rookie to appear on one of our All-Defensive Teams. He had a rookie season for the ages, ranking 4th all-time in rookie D-LEBRON and the highest rookie D-LEBRON ever for a wing in the BBI database (dating back to 2013-14). Elite at avoiding screens, defensive playmaking, and doing so while taking on A+ caliber Matchup Difficulty and Defensive Positional Versatility are all parts of his strong defensive game.
C: Al Horford: Horford was used in a new role this season, and it led to him being the second most impactful defender in the league according to D-LEBRON. Moving away from the Anchor Big role that's more about rim protection and drop coverage, and over to the Mobile Big that asked him to defend aggressively in pick-and-roll situations, often switching and hedging to push ball-handlers away from the rim, Horford shined. Horford finished second only to his teammate Robert Williams III in our On-Ball Defense metric among centers. A close 2nd in the DPOY hunt until the final few weeks of the year, the data tells us Horford's (& Williams' against bench units) mobility with size was the true key piece to Boston's elite defense this season that also boasted several elite Wing Stoppers in Smart and White, as well as strong defenders in Tatum and Brown.
BBI's 3rd Team All-Defense
G: Mikal Bridges: Offensively, Bridges is a Wing. But defensively as a Point of Attack defender and most commonly guarding Point Guards (29% of the time) and Shooting Guards (27%), he's a guard. And as a POA defender, nobody matched his mix of Matchup Difficulty (99th percentile), Versatility (95th percentile), On-Ball Defense, and Ball Handler Screen Defense. In our 2013-22 database, only 2019-20 Ben Simmons matches those marks. Those aren't the only areas that matter as a POA defender, mind you, but Bridges is still a menace at the POA role with his elite length and abilities.
G: Jrue Holiday: Holiday was the 2nd best guard defending in ball screens (Via our Ball Handler Screen Defense Metric), took on tougher matchups than 99% of players in our database, and was an elite on-ball defender while doing so.
F: Giannis Antetokounmpo: Like Al Horford, Giannis had his defensive role change this season. Unlike Horford, Giannis saw his impact drop as a result. He went from being a Helper the previous 3 seasons to a Mobile Big this season. This was mainly because Brook Lopez was out most of the year due to injury. In the new role he was still very impactful, but clearly a few pegs down compared to his back-to-back MVP seasons. But even with that drop, he was an elite impact defender and earned a spot on the third team.
F: Draymond Green: Green would have been on the first team if not for the time he missed this season due to injuries. He was third in the league in D-LEBRON, and at age 32 still remains one of the elite defensive players in the league. Draymond continues to be elite as a mobile defender that's stout defending around the rim and is strong on the boards.
C: Nikola Jokic: Jokic took a huge leap defensively this season, from ranked 80th in D-LEBRON last year to 15th this year. He led the league in our Screener Mobile Defense metric, which takes into account how well the dropping big defends the ball handler in pick and roll actions. And while he isn't a prolific shot blocker, he was second in the league in our Passing Lane Defense metric (deflections + intercepted passes) among centers. His dynamic percentiles compared to Centers with 1K+ minutes in our Rim Protection (0th percentile) and On-Ball Defense (20th percentile) show clear weaknesses, but in the regular season Denver did a good job keeping Jokic in positions to showcase strengths and keep him away from his weaknesses.
Honorable mentions:
All with strong performances but not quite making these lists are Gary Payton II, Alex Caruso, Jose Alvarado, Jae Crowder, Otto Porter Jr., and Myles Turner.
Each missed time this season, and had per 100 possession impact strong enough to compete for these lists but didn't have the minutes to drive their aggregate impact to a requisite level.
For example, Gary Payton II was the ole breakout 29-year-old son of a Hall Of Famer elite defensive specialist/lob threat. GPII played only 1,247 minutes this season, but was about twice as impactful or higher than each of Conley, FVV, Dejounte Murray, & Derrick White per 100 possessions. That's why he absolutely should not be disqualified from these teams arbitrarily. Only 7 guards this year had an A grade in D-LEBRON, On Ball Defense, Pickpocket Rating, Passing Lane Defense, & Matchup Difficulty, and Gary Payton II was one of them. He barely missed our 3rd team, but should absolutely be in competition for a spot and not ignored based purely on minutes.
BBI's 1st All-Defensive Role Team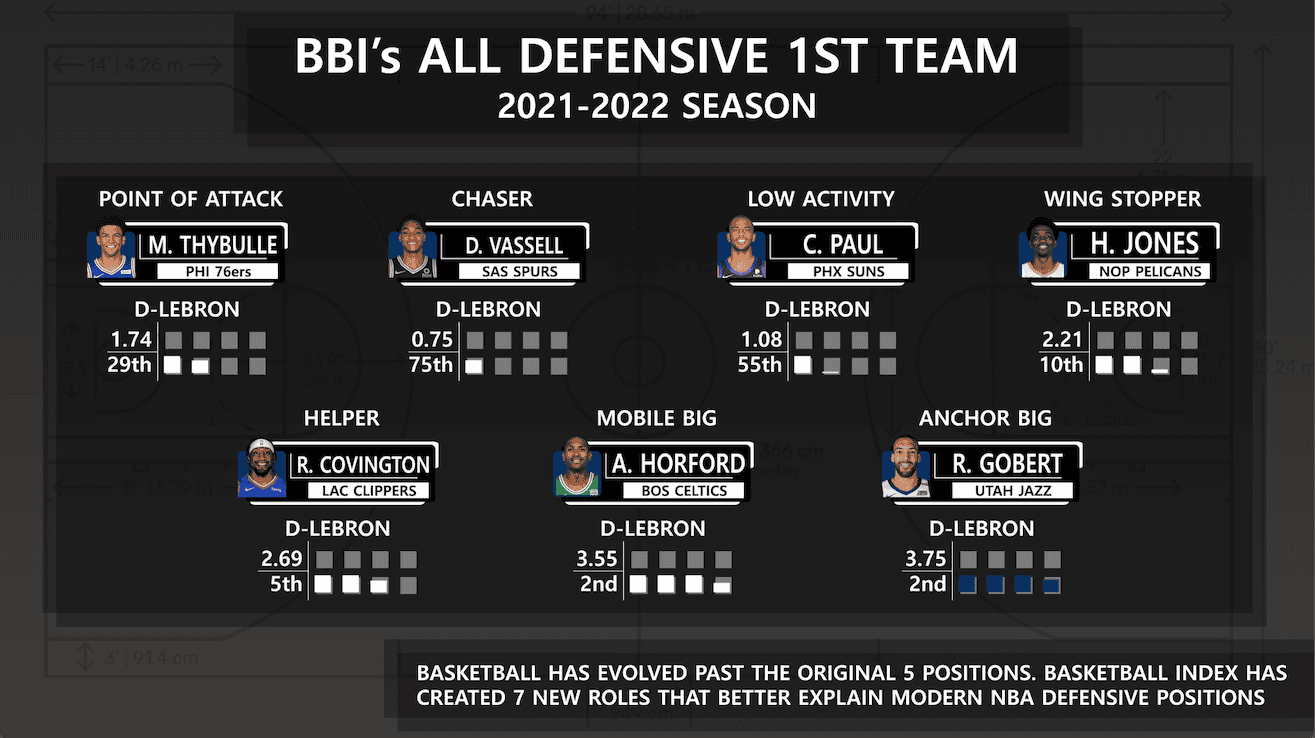 Point of Attack: Matisse Thybulle
Chaser: Devin Vassell
Wing Stopper: Herb Jones
Helper: Robert Covington
Low Activity: Chris Paul
Mobile Big: Al Horford
Anchor Big: Rudy Gobert
We see new appearances from players in the Chaser and Low Activity roles. Both are roles generally not grading out highly, and aren't places you tend to put good defenders.
BBI's 2nd All-Defensive Role Team
Point of Attack: Lonzo Ball
Chaser: Justin Holiday
Wing Stopper: Royce O'Neale
Helper: Robert Williams III
Low Activity: Steph Curry
Mobile Big: Giannis Antetokounmpo
Anchor Big: Jaren Jackson Jr.
Where the Data Differs
Here are a few notes on 3 (very very good!) notable defenders not on any of our All-Defense lists, but we expect to see receive votes and recognition from others:
Joel Embiid: Embiid nearly got the 3rd team nod over Jokic. Both have their strengths and weaknesses, but Jokic in the impact data ended up ahead and thus was chosen. A few notable areas Jokic had edges over Embiid were his Screener Rim Defense, Screener Mobile Defense, Defensive Rebounding Talent, Defensive Positional Versatility, and Matchup Difficulty. Embiid is a much better rim protector, and to a degree he nearly had the edge. This one was really tight.
Bam Adebayo: Bam in our data was a Center, and was beaten out by other Centers. He was a Center by nature of playing 98% of his minutes there, guarding them most often, and in all other ways profiling as a center. Had he been categorized as a forward, he would've been the first player off our 3rd team. He would've made the list had he played a few hundred more minutes.
Robert Williams III: Williams was also strong this season, albeit did so at a lower impact that we can see in the data is due to him performing against lower caliber players. Their data in many areas, from rim protection to perimeter defense, was quite similar this year. Horford just accomplished that against higher competition, leading to that higher impact in the advanced on/off data. Williams was a few spots away from making our 3rd team.
Wrap Up
That's all, folks! We feel very happy with how our simple metrics-driven and process-based approach was able to identify top defenders and stand by these results. With how talent-rich the NBA is this season and how few spots are available, naturally some very strong defenders will be left off lists.
You can be the 4th best defensive Center in the NBA and not make these lists. Or the 7th best Guard or Forward defender and miss these lists. It's unfortunate, but a symptom of the league being awesome. We have elite defenders missing these lists, rather than non-elite defenders sneaking in.
We'll see you next time. If you want to check out the data used for these selections, make sure to check out our LEBRON Database or Leaderboards Tool.