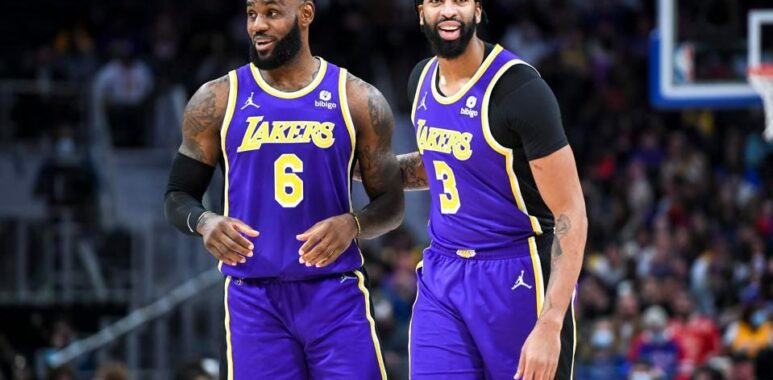 The Lakers' Offseason: What It Means for this Organization
I hope you've had a wonderful summer.  I spent these traditionally fun-filled months refreshing my Twitter feed in anticipation of a Russell Westbrook trade.  Maybe you took a summer vacation to a location you consider paradise.  For me, paradise would have been Myles Turner and Buddy Hield joining Pat Beverley in a Lakers uniform.  But it didn't happen, and here we are.
So how well did the Lakers do this offseason with the draft, coaching hire, free agency, and trades?  It depends on the lens you use to evaluate.  With the Lakers, the primary lens is always whether this is a championship-caliber roster.  But to make that the only lens is short-sighted.  We also need to look at the different components of the roster and make decisions for both the present and the future.
Lens #1: Can This Team Win A Championship?
The Bball Index's own Taylor Wyman did 2 interesting analyses looking back at NBA champions for the last 9 years.  What level of offensive talent is required to win championships?  And what level of defensive talent is required to win championships?  These were great podcasts, and I encourage you to listen to them:
Does Offensive Win Championships?
Does Defense Win Championships?
A key insight that he uncovered: NBA champions typically had 4 players on the roster with an O-LEBRON value above zero and 5 players with a D-LEBRON value above zero (zero represents an average NBA player).  With that lens, let's look at this roster using data from 2022 (since Kendrick Nunn was injured all last season, we will use his 2021 data):
The Lakers have 5 players with an O-LEBRON grade above zero (one above the threshold of 4) and 7 players with a D-LEBRON grade above zero (2 above the threshold of 5).  That's exciting.  We should go ahead and book the parade, right?  Hold on.
While directionally in line with Taylor's analysis, there are some truths to consider:
The LEBRON stat is not just a talent stat, but a context stat. If a young player is being underserved by the coaching staff, not being developed, and not being put in a position to succeed, it's reasonable to assume he would improve if his situation improves.  Other important parts of context are how well the pieces fit, the team's overall morale (are they even trying on defense), injury, etc.  These things can go up and down depending on context, but don't expect miracles.  For example, Lonnie Walker's -1.85 D-LEBRON value is not going to magically shoot up to zero in a new environment, especially since he's coming from the Spurs organization, where he was getting top level coaching.
Thomas Bryant only played 439 minutes last season. Normally, I would dismiss this data as being too small a sample size, but Bryant's minutes weren't sporadically distributed throughout the season; they were concentrated over a 27-game period toward the end of the season as he was coming back from his torn ACL.  Lakers fans should be encouraged by what he showed during this period.  There was some rust, but some good things as well.
When you combine both the offensive and defensive numbers, there are 8 players who are a net negative. All is not lost because some of these numbers can be improved.  For example, Damian Jones has historically had a really bad O-LEBRON year after year regardless of which team he was on.  But if you limit his role to catching lobs, being a roll man, and having a ball handler draw the defense and dump to him in the post, this number can improve dramatically.
Another example is Troy Brown, Jr. whose perimeter defense will be quite valuable, but whose O-LEBRON of -1.26 suggests major limitations.  To maximize what he does well, you would want him to set screens, shoot wide open catch & shoot threes, crash the offensive boards for putbacks, and make the simple pass.  That's it.  But that's all this team would need from him (at least playing with the starters).
The final challenge I see is the number of one-way players. I described 2 ways above how we might narrow some of these gaps, but that involves keeping players in a limited role – which may limit minutes for players and versatility for the coaching staff.  If LeBron and/or AD are hurt, things could get ugly; you would then need a lot more from guys who may not have it in them to provide a lot more.  This is why I think a trade to Utah (that involves giving up picks) is a terrible idea.  Their available players are just more one-way players (except for maybe Conley, who is old and expensive and no longer than dude from Memphis).
I also looked at the LEBRON data in terms of how many players have A grades.  From 2014-2022, the champions have had an average of 4.2 players with O-LEBRON A grades and 5.3 players with D-LEBRON A grades.  Here is how this same Lakers data looks using letter grades:
My thoughts on the letter grades:
This is another way to highlight the one-way players. For those of used to letter grades, this might pop more than in the previous table.  The question for the coaching staff is how can you get as many of these D and D+ guys to a C (forget getting them to an A)?  Some guys might be too limited to make that simple jump.  At least with Russ, his F grade on defense was at least preceded by years of some decent (though inconsistent) defense.  With a limited, defined focus and role, there's a long shot chance that he can become a C defender.
Thank goodness for Anthony Davis (and any 2-way player like, for example, Myles Turner, the Lakers might pick up).
Kudos to LeBron for having a B grade defense given his age, the mileage on his body, and the expected disinterest given how poorly the team was performing last year. His grade is a little misleading because I believe he can clearly be an A defender when called upon.
There are guys who are B+ players who might be able to become A players.   Patrick Beverley has a B+ defensive grade.  It's easy to think (hope) that it will tick back up to an A-.  But Bev is in his mid-30s and, given this roster, may be asked to play more minutes than might make sense.  I think it's more likely he slips down to a B than up to an A-.  But I certainly think Juan Toscano-Anderson and Damian Jones can lift their B+ to A grades on defense.  It's the offensive side of the ball that is a bigger question with those 2.
There is no excuse for Wenyen Gabriel to have a D in defense. Dude, you're 6'9" with a 7'1" wingspan, and weighing in at a very mobile 205 lbs.  This gives you the opportunity for tremendous versatility and should make him one of the most important defenders on the team.  I wrote about players built like Gabriel and their defensive impact in this post.  I'll discuss Gabriel more later, but watching him with the Lakers, I felt like he was misused on defense.
Austin Reaves is probably better than these letter grades. The up and down nature of a rookie season, especially in a highly dysfunctional environment, likely pulled these grades down.
Russ' offensive B+ is impressive considering how poorly he shot and how much he turned the ball over.
These letter grades are compared to all NBA players. What would happen to them if they were compared to a peer group subset?  For example, what happens if you compare a stationary shooter against all rotation stationary shooters in the NBA?  Or if you compare a point of attack defender to all rotation point of attack defenders in the NBA?  I created these comparisons for this Lakers roster in the table below.  You might want to cover your children's eyes.  It's not pretty.  The initial grades are on the left and the grades by role are on the right:
Some takeaways:
LeBron James was in a Stretch Big role last year to accommodate Russ. Don't expect that continue.  I expect him to be a Shot Creator.
The Lakers point of attack defenders – Beverley, Nunn, and Reaves – all saw their D-LEBRON grade go up. This is good news.
Austin Reaves' O-LEBRON jumped from a B- to a B+. I expect that to go up higher this year.
Troy Brown, Jr. was in an Athletic Finisher role despite being a horrific finisher. I would expect his O-LEBRON grade to go up in a different role built around his skillset.
Damian Jones was 13th out of 30 mobile bigs in D-LEBRON for players who played at least 500 minutes. But he was 6th in rim protection.  This is the skill that will most enable Anthony Davis to play power forward on the defensive end (and optimize his skillset).
Anthony Davis' beautiful A- and A+ grades dip down to a B and B+. I think last year was an anomaly rather than the rule.  He is generally better than that.  If he is playing with a center (like, say, Myles Turner) who allows him to be a center on the offensive end and a power forward on the defensive end, those grades should up.
Technically, nobody was a wing stopper last year. But Troy Brown, Jr. and Juan Toscano-Anderson played wing stopper in the past, so I imagine they will fill that role.
Depth is a major issue.
Through that lens, we analyzed how real the Lakers' chances probably are at winning a championship.  Barring a trade for Myles Turner and Buddy Hield, those chances are likely quite slim.  So…what should the goals be for the realist?  Are we supposed to play make believe all season and pretend this team is a championship contender?  To get a more realistic view of where this team is with their roster construction, let's look at it through one more lens.
Lens #2: Player Buckets
For this part, I broke up the roster into 4 buckets:
Win Now Players: These are players who are not young and developing and have the skill to contribute meaningfully to winning.
Young Developmental Players: These are players who are very young and are likely far from their peak. Developing them is critical for the Lakers success at the end of the season and on into the future, whether they become pieces who can play on a championship team, or they become good enough to trade for another star in the future.
Purgatory Players: These are players who are either not young enough to be considered developmental players or they've been in the league long enough that we kind of understand what they are. There is certainly a likelihood that they can show incremental improvement, but for one of these guys to become a Win Now Player, they'll really need to pop.
The Next Malik Monk: this is the player that is on a 1-year make-good contract and is most likely to outperform. I'll start my assessment of each group with this one.
The Next Malik Monk
If you recall, Monk was not a sought-after free agent.  The Lakers were the only team that called him.  But he performed quite well on the offensive end and netted himself a nice, healthy contract from Sacramento.  Who do I think is the best candidate to be this year's Malik Monk?  It's not Lonnie Walker (sorry, Lakers front office).  It's Thomas Bryant.
When Thomas Bryant was drafted by the Lakers, he came in as a 6'10" prospect with a 7'6" wingspan who could protect the rim and hit threes.  I was excited by his arrival.  I did hear Lakers personnel refer to him one time as a "potential energy guy who can come in off the bench".  A guy who can defend the rim and hit threes shouldn't develop into an "energy guy who can come in off the bench".  That's a guy who, if developed properly, should be able to play meaningful minutes in the NBA.  When I heard this, I was concerned that he was being miscast. It reminded me of when the Lakers didn't draft Kristaps Porzingis because Mark Madsen beat him up in the post during his workout for the Lakers (according to the story).  After playing only 72 minutes with the Lakers during his rookie season, the Lakers let Bryant go.  Here are his career numbers compared to other NBA players.  These are dynamic grades, meaning they are compared specifically to players who were in the same role.
As mentioned, he didn't play much his rookie season, but once he went to Washington as a sophomore, he lit it up.  It's the only year he played in the mobile big role instead of as an anchor big.  His impact was strong.  An A+ O-LEBRON and B+ D-LEBRON propped up in B+ grades in 3pt shooting talent, rim protection, and on ball defense.  If this is the Thomas Bryant the Lakers are getting, his abilities take both the offense and defense to another level, particularly because he would help optimize Anthony Davis.
Oddly, his defensive impact dropped considerably the next year, despite playing roughly the same number of minutes.  He was used as an Anchor Big instead of a Mobile Big.  The head coach was the same, so I have to assume it was either roster construction that prompted the change, change in coaching philosophy, or injuries that might have been limiting Bryant's mobility.
The following 2 seasons really don't mean much because of his ACL tear and long recovery.  Word is that he is fully recovered and that he has been looking good at the Lakers training facility.  If we get a more mature version of the player he was in his sophomore season, he will almost definitely be this season's Malik Monk.
The Win Now Players
LeBron James – LeBron James is the point guard for this team. He and Darvin Ham need to write that on a chalkboard 100 times so it gets cemented in their minds.  I always knew LeBron was a wonderful passer and had an elite basketball mind.  I didn't get to see it on a regular basis until the 2019-2020 season.  Not only did he lead the leagues in assists, his ability to orchestrate the offense was masterful.  Taking the ball out of his hands is forcing someone else to make decisions…someone who cannot do that as well as LeBron James.
Anthony Davis – Anthony Davis came into last season bulked up in preparation for playing center. I think that hurt him and was a big reason for his shooting numbers being down.  I imagine lessons were learned by both him and the organization.  As mentioned previously, he's at his best as a center offensively and a power forward defensively.  Without Myles Turner to facilitate this, Damian Jones or Thomas Bryant (or maybe even Jay Huff) need to really step up and fill this role as a floor spreading, rim protecting center.
Russell Westbrook – It has been well chronicled how poor a fit Westbrook was with the superstars on this team last year. For that to change, he either goes through a major transformation this summer and/or Darvin Ham plays him in a completely different role that a) fills a team need and b) is something he can be competent doing.  A video surfaced today of him hitting a bunch of 3-point shots.  I mean, yeah, that's better than the typical summer video of a guy being defended by a chair or dribbling around cones.  We'll see how his shooting looks during actual games.
Patrick Beverley – On the floor, his 3-point shooting and defense will be a wonderful addition.  His leadership in the locker room will also provide something this team lacked last season.
Damian Jones – With LeBron James as his point guard, Damian Jones will get a ton of easy buckets. His length, mobility, and rim protection will also be valuable on the defensive end.  If he actually ends up hitting a higher volume of three points at the same rate he did last season, it will give Coach Ham a lot of offensive versatility and enable Anthony Davis to go to work in the post.
Juan-Toscano Anderson – Lakers fans who aren't familiar with him might think he's younger than he really is (he turns 30 on April 10th, 2023). On the offensive end…I wish I had good news for you.  He's a good screener and playmaker.  Anything else is a bonus.  He's here for his defense.  He was a Helper on defense last year, but has been a Wing Stopper in the past.  He'll likely be asked to be a Wing Stopper this year due to lack of options, but statistically has performed best as a helper.
Kendrick Nunn – If Nunn is healthy this year, it will be a plus (especially if Russ gets traded). He's 6'2" on a tall day, but he can shoot, create his own shot, play well off ball, finish well at the rim, and, while not elite, he has some skills as a point of attack defender.
Purgatory Players
Troy Brown – I put Troy Brown first because he is the most likely to pop and become a Win Now player. I'm assuming better optimization by the coaching staff as my rationale.  Looking at his stats below comparing him to other NBA players in the same roles, he has been wildly inconsistent.  He was a Low Activity defender last year – a distinction typically given to a bad defender.  However, he was also playing with Lonzo Ball and Alex Caruso – 2 guys who would take on the toughest defensive assignments; he was likely a Low Activity defender by default.  The prior year, he excelled as a Wing Stopper.  That's the guy the Lakers need.  If he is that type of defender, and hits wide open catch & shoot threes, he'll provide enough value to become a Win Now player.
Wenyen Gabriel – When I see a guy like Wenyen Gabriel, I see the opportunity for a coaching staff to be lazy. What I mean is that they see a guy who isn't a rotation piece, but plays with a lot of energy, so they try to leverage him as an "energy player" like a Jordan Hill or Montrezl Harrell.   I'm concerned that the Lakers coaching staff was thinking the same way based on how I saw him used at times last season, and based on their recommendation that he put on weight during the offseason.   Gabriel came across as more self-aware in an interview I saw where he calmly dropped that he would like to guard the perimeter more.  At 6'9" with a 7'1" wingspan and only 205 lbs., he should be extremely mobile and go back and forth between being a Wing Stopper and a Helper.  If he excels at this, he becomes a valuable player because he's a guy you can have defend Kawhi, Luka, Klay, and all the other wings with size.  He wouldn't be playing 30 minutes, but his combination of length and foot speed would give these guys a different look, and hopefully be disruptive.
Looking at the data below, we see very limited minutes for Wenyen.  A lack of consistency has hurt his productivity.  But you see the flashes.  In 2019-2020, as a Helper, he was an A+ On-Ball Defender.  In 2020-2021, as a Helper, he had A+ Rim Protection and an A+ D- LEBRON grade.  His defense went to hell as a Mobile Big, but he was still at least a C-level On-Ball defender.  His 3-point shot has also been inconsistent, but not non-existent.  In an overtime win against Toronto last season, he scored 17 points, including 3 for 3 from the 3-              point line.  If the Lakers are able to optimize him defensively as a combination Wing          Stopper/Helper, and Wenyen is able to be consistently hit 3 pointers, he will become a Win Now player…but this would require a lot of things to go right.
Lonnie Walker, IV – By all accounts, Lonnie Walker is a really nice guy. And I'm happy that he has been able to make a living playing the game he loves.  I hope he has been (and continues to be) smart with his money.  For instance, if he put $10M in a whole life insurance policy with the right company and just lived off the 3%-5% interest annually, he could live out his remaining days quite comfortably.
(Sigh) So I suppose I have to talk about Lonnie Walker as a basketball player now.  Let's see.  He's a good free throw shooter with a 78% career average.  He is a hyper athlete and has some individual metrics that show potential.
Defensively, however, he has struggled.  Out of the 573 NBA players in the database, Walker had the 554th best D-LEBRON.  And as previously mentioned, he has spent his entire career with the Spurs coaching staff.  I wouldn't expect a huge leap with the Lakers.  If he was coming from a place where he had been underserved – a dysfunctional organization, a questionable coaching staff, etc. – I might think differently.  He actually did rate out well as a rim protector and an off-ball chaser, so he can do some things.  But he has struggled to put it all together.
And then there's the perimeter shooting.  I'll let the below percentiles speak for themselves.
I'm clearly not high on this signing.  I'm also concerned that his playing time will not be entirely merit-based because of the $6.5M of the Buss family money invested into his salary.  But there is a caveat…
If there are off-court things that impacted his on-court performance, and those off court issues are going away, then I absolutely can see Lonnie having a career year.  But I still think the jump he would have to make to be a true Win Now player is too big to be realistic.
Young Developmental Players
Jay Huff – the Lakers have 3 guys on Exhibit 10 contracts – a single season minimum contract that can be converted to a two-way contract prior to the beginning of the season (if the player isn't simply waived). Jay Huff is one of these guys, and he's the only one I'm writing about.  He was with the Lakers G-League team last year and spent some brief time with the big club.  But the moment looked too big for him.  That's okay.  I remember Alex Caruso first coming to the Lakers and thinking the same thing; Caruso clearly did just fine.  Huff was the Lakers' best player during summer league.  He showed excellent rim protection and is a 3-point shooting center.  True, he cleaned up against summer league players, most of whom will likely never play in an NBA game.  But it was encouraging to see.  And it will be interesting to see if he is ready for the big club this year. If so, then there will be a true battle at the center position.
Max Christie – The Lakers bought a 2nd round pick and were able to nab Max Christie. This was a nice pick up.  Darvin Ham compared him to former NBA player, Doug Christie, and I can certainly see the similarities – a 6'6" athletic defender with some offensive game.
Christie struggled with his shooting toward the end of his college career.  As our own Cranjis McBasketball shared:
During Summer League, he was an impressive defensive player – a skill I can see transferring nicely to the NBA.  He still struggled with his offensive game – whether it was because of nerves or the disorganized nature of Summer League offenses.
The takeaway with Christie is that this will be a process.  Building adult strength and NBA conditioning (when he didn't quite have the conditioning for heavy minutes in college) will take time.  I'd be careful with expecting too much too soon from him.  Incremental improvements and a series of small wins will be the best way to keep his confidence up and develop him into an NBA player.
Cole Swider (two-way player) – Cole Swider was my favorite Summer League player. He showed a lot as a movement shooter.  He has size at 6'9", but seems like he might have limitations athletically, and he certainly has a long way to go defensively.  It will take a lot of work to make him defensively good enough to put on an NBA floor.
Given his size, maybe he can develop as a Helper on defense?  If he can be a C- defender, that should be enough to get him reasonable minutes in the NBA.  That sounds like a tall task, but Devin Booker showed it could be done when he went from being a bad defender to a mediocre one.
Scotty Pippen, Jr. (two-way player) – the Lakers essentially prioritized Pippen over Mac McClung. McClung saw the writing on the wall, left, and was picked up by Golden State.  I don't agree with it.  I know Pippen showed flashes and was a fan favorite during summer league, but he's a guy who needs the ball to be effective and he isn't much of a shooter, making him about as bad a fit on this team as there can be (the Lakers just traded away 21-year-old Talen Horton-Tucker for this very reason).
Look at it another away.  The Lakers already have two small guards in Kendrick Nunn and Patrick Beverley.  I personally don't see a path to him being as good as these guys are now.  And I don't mean just for this year.  I'm willing to be wrong this one; I just feel the Lakers have other needs they should be prioritizing on the development side of things.
Okay, So Now What?
A quick recap, because it is important enough to restate: the number 1 thing that will improve this team is having LeBron James and Anthony Davis healthy for the entire season.  But even if they both play 82 teams and are healthy once the playoffs start, this isn't a championship roster.  The Lakers would be the "team nobody wants to face in the playoffs" (insert eye roll here).  The only team I can think of that fits this description that actually won a championship was the 6th seed 1995 Houston Rockets.
If the Lakers want a roster that can genuinely compete for a championship, the quickest way to do that is a trade for Myles Turner and Buddy Hield.  Assuming that deal is little more than Russ + 2 1sts, it's a win.  I have no idea the status of the deal or if Indy is even interested.
A deal with Utah doesn't make them a championship team, but I'd be open to adding pieces as long as the Lakers don't have to give up more than one 1st round pick.  Absolutely nothing Utah has available warrants 2 1st round picks.  But I can see a starting 5 of Reaves / Bogdanovic / LBJ / AD / Bryant winning a lot of games and being fun to watch.
Given where the roster is, there are 3 things I would like to see happen (not counting the Indy trade):
Play the young guys. Give Swider and Christie some run with the big team.  Maybe it's during garbage time at first, but let them get a taste and see if they can slowly build their confidence.  Quite honestly, I'd rather watch Swider hit threes and not play defense than watch Lonnie Walker not hit threes and not play defense.  I might go a little slower with Christie because I'm worried about his confidence on the offensive end.  Hopefully, he gets some run in the G-League and that helps with his development.
Keep an eye out for deals that improve the team on the margins, not just the home run hits. Maybe a team like Charlotte, who seems a bit rudderless right now in the wake of the Miles Bridges situation, and wants to restart some things might be open to a trade for Jalen McDaniels (a 6'9" versatile defender who can hit threes) or maybe they take on Russ' contract (to clear cap space) for Gordon Haywood and Jalen McDaniels.  (This is just an example for illustrative purposes.  I have NO intel that this is anything real right now.)
Look for another young guy to add to your developmental players. The Lakers need a 2/3 with size who can shoot.  Maybe OKC would be willing to swap Lindy Waters III (their two-way player) for Scotty Pippen, Jr. or a 2nd.
For those of you unfamiliar with Lindy Waters III, he is 6'6", 215 lbs., and in 16 G-League games last year, he shot 48.3% on 5.4 3-pointers per game (and 94.7% on free throws).
He only played 25 games in the NBA (18.6 min per game), so it's a small data set, but he still shot 36.3% on three against NBA defenses (and 80% from the free throw line).  Below is more of his data from his NBA games as an undrafted two-way player.  It would be great if the Lakers had a guy like this as one of their developmental players.
The Hard to Swallow Pill
If the Lakers season goes sideways, the Lakers may need to consider trading Anthony Davis at the trade deadline.  That would be tough.  I've been a Davis fan since he came into the NBA, and was thrilled when he became a Laker.  But if the organization is serious about being great in the future, and there is a realization that a tandem of LeBron and Anthony Davis is no longer going to be strong enough to get it done, then they need to prepare for the future.
Who knows?  Maybe a superstar player (not an all-star player, a superstar player) will absolutely be hating his situation with his team and want out.  Maybe the timing would work out if they accepted AD in a trade.  As a (very unlikely) hypothetical scenario, what if you're able to trade a package centered around AD for Luka Doncic?  Not only would I personally send Mark Cuban a gift basket, but the Lakers would have their superstar for the next 10+ years.
In a more realistic scenario, the Lakers would probably get a hefty haul of assets.  Look what Utah got for Rudy Gobert – 5 players, 3 unprotected 1st round picks, a top-5 protected first round pick, and a pick swap.  An AD trade could immediately refill the Lakers coffers as they prepare for their next big move(s).  I'm not sure who the trade partner would be – maybe the Knicks?  They clearly have trade assets as they almost traded for Donovan Mitchell.  For a team like the Lakers who is so desperately trying to protect these 2027 and 2029 1st round picks, loading up on picks and young talent makes you a player again in big trades.  Also, if LeBron leave after next season, you've got tools to help you reload.
For those of you who say Jeanie Buss would never trade a superstar, maybe you're right.  Based on the contract Kobe was given at the end of his career, it appears the Lakers certainly want to market themselves as superstar-friendly.  But I'll point out that Dr. Buss had no problem trading Norm Nixon for Byron Scott, or Shaquille O'Neal for a package that ultimately turned into Lamar Odom and Pau Gasol.  The Lakers need to, at the very least, have an open mind if things go bad.
Lakers fans aren't used to hearing things like, "trade for Jalen McDaniels" or "get that undrafted 2-way player from OKC" or "be ready if things go bad", but these are things that would strengthen the health of this roster – both in the short term and the long term.
I have no idea what Rob Pelinka promised LeBron James and his representation in terms of how he was going to build a championship team around him, but this current roster isn't it.  Fans need to set reasonable expectations so they can enjoy this team for what it is.  And the front office needs to be realistic about this, as well, or it becomes very difficult to make the right decisions.
UPDATE: No sooner did I finish this and click send then Dennis Schroder rejoined the Lakers. Long story short, this makes no sense to me unless there's another trade in place to trade one or more guards. Otherwise, you have a really small team. Larger guard and wings will feast on these players.
If a trade does occur to create more balance, my 2nd biggest fear is that having Schroder on the team will take the ball out of LeBron's hands.  But if Dennis is meant to facilitate a 2nd unit, I feel better about that.