In an otherwise uneventful blowout against the Phoenix Suns, Rudy Gobert accomplished an impressive feat. With his 270th dunk on the season, the Utah Jazz center broke the record for most dunks in a season. By the end of the game he already extended the record out to 275 dunks. The record was previously held by Dwight Howard when he finished 269 dunks in the 2007-2008 season.
The Stifle Tower is finishing up the best season of his career and absolutely deserves recognition for that. With his nearly four dunks per game, he's increased his scoring average to a career-high 15.6 points per game. Here are the other categories that he's putting up career numbers for (according to Basketball-Reference):
2.0 Assists/game
133 Offensive Rating
66.6 Field Goal Percentage
7.0 Box Plus-Minus
.269 Win Shares/48 minutes
30.5 Defensive Rebounding Percentage
17.7 Usage Percentage
12.1 Turnover Percentage
Not 1 game missed so far
All he does is dunk you say? Even if that were true, is that really an issue? He has that reputation because he. Dunks. A. Lot! Don't you think teams would prevent him from finishing the most efficient shot in the game if they could? Well, 275 dunks later and you can see he can be nearly impossible to stop in the restricted area. Because of this he's number one in the NBA on points scored on cuts to the basket.
Plus, he isn't just a dunker. We've covered this in depth here, so I won't go too far into it again. Needless to say, he contributes to winning basketball like few players in the league. Our player grades reflect that especially well: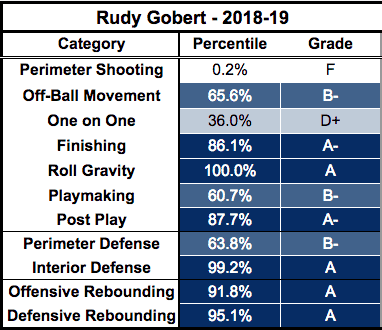 As does his offensive Synergy Data:

In fact, he's in the 99th percentile for overall half-court offense and 80th in transition. If you're still not a believer, just watch the Jazz more closely next time they are on. Pay attention to the number of possessions he influences, both defensively and offensively. I think you'll come away surprised and impressed. He recognizes that he won't always get that credit and recognition, and said so in an interview with Hoops Hype recently:
In the game of basketball, there are a lot of things that you don't see in the stats. On both ends of the floor, on offense and defense, there are times where you make a big impact for your team, but it's not going to show on the stat sheet. For the people who don't watch the games, they'll just see who looked good based on the box score, you know? Even I do it at times. When I'm looking at the other games that were played, I just look over the box score and think, "Oh, this guy was good," and, "That guy played really well." But I didn't see all the things each guy did that doesn't show up in the stats. That's how it's always going to be. I just have to focus on getting wins. My [contributions] will always go underappreciated because they don't all show up in the stats. But at the end of the day, if you have your team winning, that's what is more important.
So congratulations to Rudy. He deserves any and all recognition he gets for breaking the record, and then some. As someone who wants to be known for winning, he's carrying the Jazz to another postseason appearance. And he's doing that with more than just his DPOY defense.