General NBA
Jacob Goldstein
Projected 2018-19 NBA Wins
The season is nearly upon us! With the start of the season so close, now is as good a time as any to finally release my 2018-19 NBA win projections. The process remains very similar to what I did last year, with only a few new additions. The largest is that I have improved the accuracy of PIPM in the year since the 2017-18 projections came out. Rookie projections have also been redone to incorporate preseason and summer league data into their predictive PIPM for the upcoming season. I have also changed how I handle minutes. I no longer just use an algorithm to define minutes, I blend that with a subjective minutes distribution that I do by hand based off my feel for how the team will be played.
Projections updated to include Jamal Crawford signing and Wesley Johnson trade.
Western Conference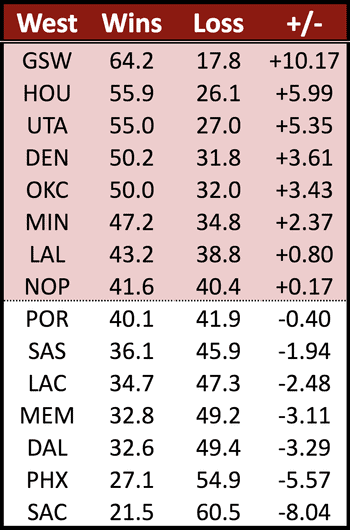 Shocker! The Warriors are good! I think their projection is a little high for my taste, but they're clearly the best team in the NBA and the team to beat for the fifth straight season. You'll notice the Timberwolves around 47.2 wins. Because there is yet to be a resolution to the Jimmy Butler situation (at least as of the time of writing this), I left him on their team for now. If I replace his minutes with an average backup wing, the team projects to win 41.1 games next year.
Surprising results are the Blazers and Spurs falling just outside of the playoffs, but injuries and complete change in depth could make for a rough year for both teams. The Kings are, as always, by far the worst team in the conference and project to be the worst over the entire league.
Eastern Conference
Statistically, the Raptors project as the top team in the East after bringing on Danny Green and Kawhi Leonard. The Celtics are the clear number two and the 76ers are the clear number three. After that, it becomes a large list of super meh teams and a similar list of bad teams. The East is better, but the contending talent from the East can't yet compare to the West.