Los Angeles Lakers
Uncategorized
LeBron James' Teammate Archetype Game: Alex Caruso
Let's conveniently forget the fact that he had the ball stolen in back-to-back possessions at the beginning of the 4th quarter against Kris Dunn.
The Lakers may have lost the game to the Raptors, 111-98, but the guys from the South Bay Laker team have been getting minutes and Alex Caruso had a stand out game.
It's becoming commonplace for the Lakers to get doubled up on the scoreboard late in the first quarter. Early in the second quarter, the South Bay Lakers get subbed in, and usually make a scoring run. Moe Wagner, Johnathan Williams, and Alex Caruso bring energy off the bench and spark solid IQ play with effort.
Alex Caruso came out against a top tier defending team in the Raptors, and scored a career high 16 points.
Alex Caruso Attacks
This occurred against the Raptors, where Alex Caruso scored three consecutive layups, all on cuts, and later hit a spot up 3-point shot on the wing-corner.  
As it turns out, the formula doesn't have to be so complicated when building around LeBron James. He needs shooters and cutters, preferably both.
Here, Caruso correctly slips this screen amongst the defensive confusion. Easy read.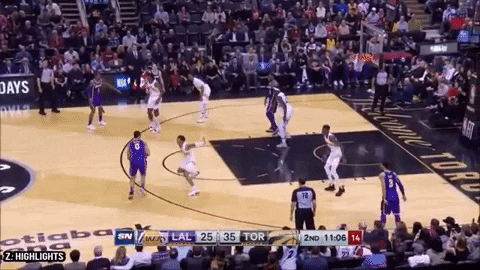 Pass – Screen – Cut, Personified.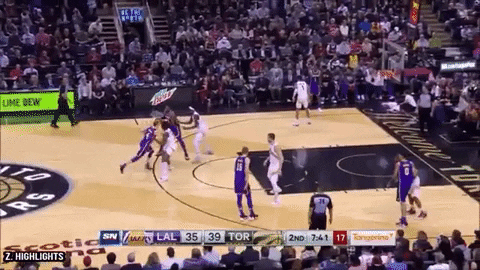 Got caught looking.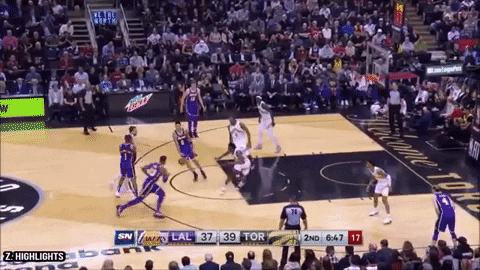 Alex Caruso Passes
Sure, LeBron may need a complementary playmaker to give him an occasional possession off, but the formula is tried and true. Caruso showed some of his playmaking with advanced passing ability.
Open shot in early offense.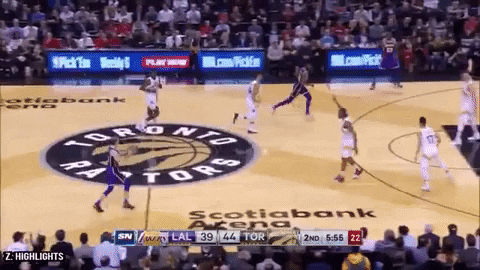 Pick and roll.  Notice how he maintains the half-step lead when Lin goes behind the screen. LeBron's roll gravity keeps Kawhi occupied and opens up the lane for an extra half second.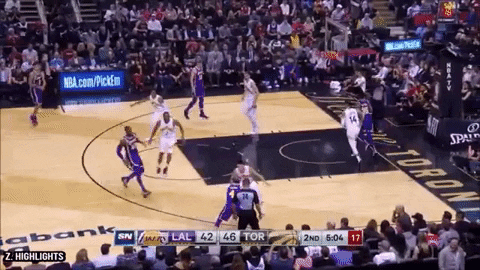 Caruso also added a few more shots for LeBron James and Kentavious Caldwell-Pope in transition.
What It's Supposed To Look Like
This is where we miss Lonzo Ball. It's almost easy to forget about him because it's been so long since he's seen the NBA floor. Out of UCLA, this is what he was known for; off-ball cuts along the baseline for dunks, getting the team out in transition, and hitting his spot up shots behind the arc.
If the Lakers analytics team picked up Caruso based on the idea of Lonzo Ball's archetype, this would be considered a real win. This is what it's supposed to look like.
These skill sets don't necessarily have to come from the point guard position, it's just easier to find the skill set from a point guard because those players have spent a lot more time reading defenses and their own defender to create opportunities.
Frankly, these skill sets don't have to come from an All-Star type player either. A player like Kemba Walker would be great in these situations too, but frankly, even shooters like Seth Curry or Kyle Korver do great jobs of moving when their defender isn't looking, getting into an open spot, and taking open shots.
If there's a lesson to be learned from Caruso's game, it's that basketball doesn't have to be so complicated. Off-ball players never really get the credit they should because they may not be as flashy off-the-dribble. The Golden State Warriors have done a hell of job trying to change that narrative. Their primary playmakers in the half court are Andre Iguodala, Draymond Green, and now Boogie Cousins. Guess who is running of screens, setting screens of their own, and cutting backdoor? Stephen Curry and Klay Thompson.
Once the Lakers figure that out, the plan for roster construction should change. We've seen it with the Warriors. We've seen it in this game with Caruso. We see it for over half a year with Lonzo Ball.
The question is, will they figure it out? I hope so. The answer is right in front of them.
*Special Thanks to Z.Highlights on YouTube for the video highlights*