Lakers Mailbag: Post Regular Season Edition
Like the Los Angeles Lakers, I am inching closer and closer to vacation mode (I unfortunately will not be in Cancun though). So with no coach or front office hirings announced by the team just yet, there is probably no better time than now for another edition of my unnamed mailbag.
Really, send your suggestions my way. Please.
Anyways, with the help of some Twitter friends, I got some great — and relevant (did get one question on Lance Stephenson's wrestler comp, and the answer will always be La Parka)  questions this time around, so let's get started.
What is your worst case/best case/most likely to happen scenario with the Lakers roster by opening night? @Greyjamkills
Best Case
Let's hit on the best case scenario first because that is immensely more fun. In my opinion there are two ideal outcomes for the Lakers roster this summer, or more specifically, be made ideal through the signing of one of these two players:

The ultimate "well duh" response, but the Lakers would tremendously benefit from adding a top shelf talent next to LeBron and his young company next season and going forward. Fortunately for them, there are two bonafide Tier: A talents about to hit the market.
A quick scan over Kevin Durant and Kawhi Leonard's Bball-Index player grades from this past season reveals just how elite of elite both were.
In Leonard, you have arguably the best two-way player in the league, who also just so happens to be a burning supernova at the moment in the playoffs. He would be an amazing fit in many regards, especially in taking the responsibility of covering the opposing team's best player on a nightly basis ("A-" Perimeter Defense Grade).
In Durant, you not only have an honor roll student when it comes to our site's Talent Grades (he has some explaining to do for slacking in the offensive rebounding category though) but he continues to prove to be the most difficult cover in the NBA and would immediately shore up a ton of needs on the Lakers' roster, namely shooting ("A-" Perimeter Shooting Grade).
Adding either Durant or Leonard would be an obvious home run for Los Angeles, but I am unsure how likely that scenario is. Which brings us to the next question, what is the worst case scenario?
Worst Case
After giving this some thought, I feel the worst case scenario is for the front office is to operate from a place of desperation. This could mean overpaying for a free agent, mishandling the team's assets (young players) or targeting a deal that is both shortsighted, and ultimately barely moves the needle.
The cost/return will ultimately determine how one such move will be perceived. But based on recent asset management and trades, fans must be cautious when it comes to being optimistic for any big moves.
Most Likely
In terms of most likely, I unfortunately would lean toward the latter of these two scenarios I broke down. But, it is worth pointing out there are quality B-level free agents available that could prevent the front office from doing anything too haste.
Even if they are unable to snag Durant or Leonard, by adding a quality secondary star, upgrading the coaching staff and seeing a hopeful uptick in improvement from the young core, this summer could still be as close to a success as possible.
What role players would you like to see signed if no All Star types are acquired? 
@CanyonDriver
I have had my eye on two specific players for awhile now when it comes to questions like these, and I feel pretty confidently they both would make immediate positive impacts on the Lakers.

Although not household names, Dewayne Dedmon and Noah Vonleh proved plenty serviceable for their respective squads this past season and theoretically would fill the necessary floor spacing big role for the purple and gold. Which this site lists as the biggest team weakness for the Lakers per league-wide data.
With the departure of Brook Lopez, the Lakers decided not to fill his spacing ability from the center spot, and instead pursued JaVale McGee's rim-running/lob catching prowess. While McGee had a fine year at the five spot, especially when considering his contract, the team's offense was severely congested.
As seen in both player's Talent Grades, perimeter shooting are strengths, especially in Dedmon's case. With the Hawks, Dedmon canned his wide-open looks from three at a 42.5 percent clip last season according to NBA tracking data.
This would be a huge get for the Lakers' slashers in terms of kick-out potential, but also simply by unclogging the paint as the floor spacing big is the NBA's version of Flonase.
While Vonleh has not proved to be as accomplished of a shooter as Dedmon, he does offer far more upside. At only 23, Vonleh is an enticing buy-low candidate, who not only showed flashes of being a switchable defender from the five spot ("B" Perimeter Defense Grade) but shot nearly 34 percent on his 136 threes with New York.
I may be incorrect, but it seemed there were times last year where the Lakers were greatly out rebounded, especially on the defensive end. Is there a "cheap" player(s) in the market that can helps shore some of this up? Dedmon, Looney or Lopez maybe? @tedbunny909
This is a sound observation. According to Cleaning the Glass, the Lakers ranked 20th in the league in terms of percentage of misses their opponents were able to pull down. Whereas on the offensive glass, they were 13th.
In regards to the names you listed, Dedmon posted solid defensive rebounding numbers as his grades showed above. Looney earned an "F" grade in our site's Defensive Rebounding metric, but did excel on the offensive glass with an "A" grade.
For Lopez, who is probably a way long shot given the Lakers lack of a pursuit initially, he thrives more in creating rebounding chances with his solid box-outs opposed to directly skying for boards.
One name that is both realistic, and would be a popular signing among fans, is former Laker, Ed Davis.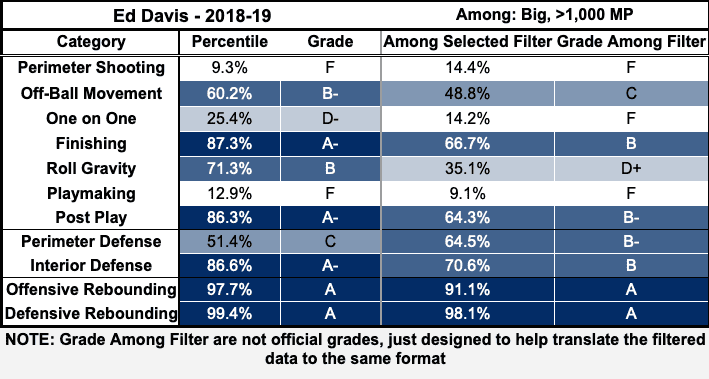 As a member of the Brooklyn Nets, Davis excelled on the glass. As seen in his Talent Grades, Davis was one of the best glass cleaners in the league as he ranked in the 99.4th percentile of the NBA in defensive rebounding (among all players) and was a fantastic offensive rebounder as well.
With one of the best motors in the league, and a solid interior defender, Davis would be an exceptional addition to the Lakers' bench/front court.
There are quite a few intriguing "role players" set to hit the market this summer, so if the Lakers strike out up top, fleshing out the rest of the roster with several solid players who can outplay their contract value, is not a shabby plan B.
*Data via: NBA.com and Cleaning the Glass unless otherwise noted | Featured image courtesy of: Aidan Lising.