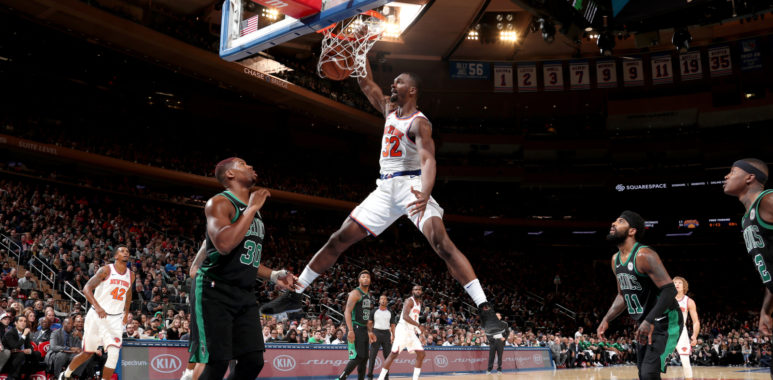 Knicks Buzzer Beater: Observations, Questions, and a Prediction
After three games, the Knicks hold a 1-2 record. After thrashing the Hawks in their home opener, they dropped their last two on the road in barn burners to Brooklyn and Boston. But, aside from a Kevin Knox turned ankle against the Celtics, Knicks fans have to be pleased with most of what they've seen so far. Success this season will not be measured by wins and losses. Instead, we'll look to players (and coaches) developing tangible things like skills and techniques, as well as intangible things like competitiveness, cohesion, and confidence. Here are some things I've found notable and worth keeping an eye on going forward.
3 Observations
1. Frank Ntilikina needs more reps at point guard.
In my first post for The BBall Index, I looked at the Knicks' point guard rotation, examining the strengths and weaknesses of Ntilikina, Trey Burke and Emmanuel Mudiay. I acknowledged that some Knicks fans wouldn't mind seeing Frank permanently move to the off-guard position. Even if that is your stance, there's no question he needs to improve his playmaking, regardless if he's a primary or secondary ball-handler.
In that first game against the Hawks, six different Knicks players finished a total of 22 possessions as the pick-and-roll ball-handler (meaning they either took the shot, got fouled, or turned it over). That breakdown looked like: Allonzo Trier – 6, Tim Hardaway Jr. – 5, Mario Hezonja – 3, Ron Baker 2, Knox 1. Frank conspicuously finished zero plays out of the pick-and-roll. He simply wasn't given many opportunities to create for himself and others. He only finished the game with one assist when he hit a trailing Hezonja for three. At one point, Frank even passed the ball to Baker in the backcourt to initiate the offense. That simply cannot happen. When given the opportunity, he showed his strong passing ability, like off this grab-and-go:
Noah Vonleh acts like he's going to set a ball screen for Ntilikina, causing Vonleh's man, Alex Poythress, to blitz Frank. Vonleh slips the screen and Frank throws a perfect no-look pass, forcing Vince Carter to take the foul.
In the two games that followed, Frank was given more opportunities in the pick-and-roll and he took full advantage. In the Nets game, Ntilikina scored seven straight points in the third quarter, all off the same double screen action:
He's also shown a little chemistry with Enes Kanter as the roll-man. Here's Frank making the two-man game look easy in Brooklyn:
In this next play, Frank rejects Kanter's screen then shows nice patience as he waits to find the seam between Aaron Baynes and Jayson Tatum. Frank bides his time until Tatum is ready to switch back onto him and perfectly times his bounce pass to Kanter:
Frank has shown flashes of pick-and-roll aptitude. The more comfortable he gets running the offense, particularly out of the pick-and-roll, the more valuable he'll be as a primary or secondary creator.
2.  Coach Fizdale rides the hot hand in crunch time.
Against the Nets during crunch time (defined by NBA.com as the final five minutes of a game within five points), Fizdale trotted out a lineup of Burke, Ntilikina, THJ, Knox and Kanter (with Lance Thomas subbing for Kanter for one minute for defense). Playing Knox at the four shows Fizdale's confidence in the rookie. Knox had been shooting the ball well all game, finishing 7-of-14 from the field and 3-of-4 from three, with zero turnovers.
Compare that lineup to the very next night, when the Knicks found themselves in a close game again. That lineup was Burke, Trier, Hardaway, Vonleh and Kanter (With Lance again subbing for Kanter for one minute of defense). Sure, you could argue that Knox might've gotten those clutch minutes at the four. But, then again, Fizdale was clearly loving the effort that Vonleh was putting in. He could've opted for Thomas or Hezonja at the power forward spot, but rode Vonleh and Kanter as the bigs, small ball and spacing be damned! Either way, having Trier in for Ntilikina shows a tendency to favor the hot hand as Iso-Zo had scored 15 points prior to crunch time.
3. Fizdale switched Ntilikina off his defensive assignment twice…and it backfired twice.
Ntilikina began the Nets game matched up with Caris LeVert, who was coming off a 27-point game in Detroit. Granted, Frank did not shut him down by any means. LeVert finished the first half with 11 points on 4-of-6 shooting, 0 three-pointers, and 3-of-3 from the free throw line. Then, inexplicably, Frank matched up with Joe Harris in the second half. Maybe Fizdale didn't want Hardaway Jr. getting worn out by running through tons of off ball screens. But, guarding LeVert is no picnic. The very first play of the second half, THJ fell asleep on defense, allowing a LeVert layup:
In the fourth quarter, LeVert lit it up with 15 points (3-of-3 from the field including two three-pointers, 7-of-8 from the free throw line, with zero turnovers). He also beat THJ in isolation on the game-winning drive and layup. It's hard to believe that Frank would've done a worse job on LeVert.
Then, against Boston, Ntilikina started out on Jayson Tatum, and he did a very solid job. Per NBA.com's matchup data, Frank guarded Tatum on a team-high 21 possessions and held him to seven points on 1-of-3 shooting and two turnovers. With Frank on the bench during crunch time in this one, Fizdale turned to guys like Vonleh, Thomas and Hardaway Jr. to defend Tatum who ultimately iced the game for the Celtics. It would've been nice to see how Frank could've defended Tatum down the stretch.
2 Questions
1. How many crunch time minutes can Kanter play?
Kanter's lack of fourth quarter playing time was well documented last season. In the two close games this year, Fizdale has shown no qualms with playing the big guy during key stretches. It's hard to blame him. Kanter has been an absolute monster through three games, averaging 21 and 12. But, there's a reason Kanter found himself on the bench during so many key stretches last year. He really does get picked apart in the pick-and-roll. In this play below, Kanter plays D'Angelo Russell up too high on the screen and gets beat to the rim during a crucial possession:
Then, on the ensuing possession, the Nets ran the same play. Kanter, trying to learn his lesson, sits back and allows Russell to rise for the uncontested three-pointer:
As long as Kanter is scoring and rebounding as prolifically and efficiently as he is, Fizdale will likely live with his defensive limitations. But, we've already seen Lance being subbed in for defensive possessions. It's worth watching whether Fizdale falls into the same routine as his predecessor in terms of sitting Kanter in the fourth.
2. What's the Knicks' offensive ceiling with their current shot diet?
The Knicks currently rank fifth in the league in mid-range jumpers with 21.3 attempted per game. It makes sense. Guys like Burke, Trier, Hezonja and even Frank like to pull up from long two. The issue is New York is shooting just 34.4% on those shots, which ranks 21st in the league.
A related stat, though perhaps even more troubling, is that the Knicks are only assisting on 48.3% of their made field goals, ranking 28th in the league. Burke, Hardaway and Trier all like to operate in isolation, which could be problematic going forward.
1 Prediction
Noah Vonleh will replace Kyle O'Quinn as MSG's fan favorite big off the bench.
I've been wildly impressed with Vonleh so far. He plays hard, takes a ton of pride on defense and has a motor going after loose balls and rebounds. I know it's been a small sample, but I can see his effort and productivity being sustainable. He has some solid defensive instincts and showed the ability to contain the pick-and-roll. Watch as he snuffs out this Terry Rozier/Al Horford two man game:
That is a truly delicate balance between containing the ball-handler and knowing where the roll-man is. But, perhaps my favorite thing to watch for going forward will be Vonleh's grab-and-go game. A few times he brought the ball up after a rebound only to pass to a guard. But, I can see some serious potential for playmaking and highlights. In the play below, he grabs a board and brings it down before the defense has too much of a chance to set up. He gives a dribble hand-off and sets a screen all in one motion, leading to a Damyean Dotson bucket.
I'm already all-in on Vonleh and can't wait to see what else he can do off the bench for this Knicks squad.
Photo by Nathaniel S. Butler/NBAE