Lakers fans, have you been refreshing Twitter over and over hoping to get news that the Lakers traded Russell Westbrook, made the team noticeably better, and made our free agency acquisitions more digestible? Welcome to my world.
Even understanding the Lakers' extreme salary limitations, I had higher hopes for free agency.  While it lacked the Titanic-like disaster of the summer of the Mosgov/Deng contracts, it still felt underwhelming. I'm high on the Damian Jones and Thomas Bryant signings (though the stats bear out that I'm probably overly optimistic about what Bryant can do for this team). With very specific, defined roles playing alongside AD and LeBron, I think they can do well.
Juan Toscano-Anderson
I was non-plussed by the Juan Toscano-Anderson signing, given his lack of perimeter shooting.  The Lakers already have a defensive specialist who isn't much of a shooter in Stanley Johnson.  But the more I have researched him and learned, the more he has grown on me. Using the BBall Index Player Comparisons tab in the Leaderboard App, I compared him to Stanley Johnson and was pleasantly surprised: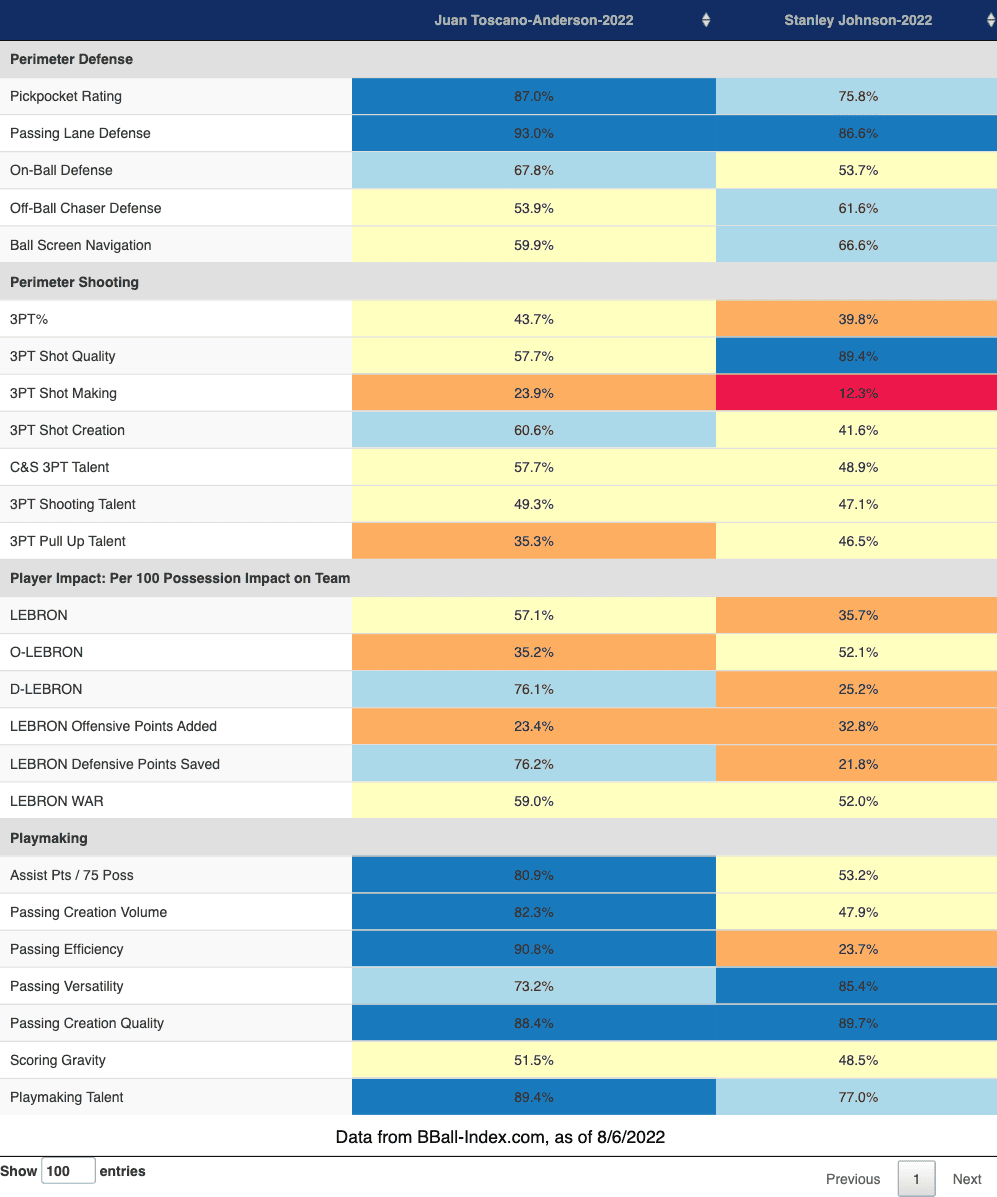 Offensively, JTA appears to be a much better playmaker than I had anticipated (but Johnson is no slouch in this department). JTA is a better Catch and Shoot 3-point shooter, but their 3-point shooting talent is pretty close – both hovering just under the 50th percentile. While not ideal, that's not BAD; it's certainly an upgrade from Russ' 35.8th percentile rating. Defensively, it would be interesting to see both JTA and Johnson on the floor together. Both excel in passing lane defense, while JTA appears to be the better on-ball defender and Johnson grades out better as a chaser and in ball screen navigation. Offensively, I'm not sure you can really keep them on the floor together for very long unless a) one or both shows unexpected improvement as a shooter and/or b) they are surrounded by 3 knock down shooters.
Troy Brown Jr.
The Lakers also signed Troy Brown, Jr.  As with Jones and Bryant, as long as he has a very specific, clearly defined role, he can fit well with this team. I'm not going to make much of Brown being a "Low Activity" defender in Chicago. Let's be honest; if you are on the same team with Alex Caruso and Lonzo Ball, those two guys will be taking on the most difficult perimeter match ups.  When you look at the stats below, if he's used properly, he has the tool to help this team win:
His rebounding impact and free throw rate impact are both very good.
He has a positive defensive impact, particularly on the perimeter.
Like JTA, he rates out as a better playmaker than I had anticipated, though he wasn't asked to do a lot of that in Chicago.
He doesn't move particularly well off the ball, but he's a nice Catch and Shoot piece to take the floor with LeBron and AD.
From the Player Profiles tab of the Leaderboards App at BBI:
The last free agent acquisition, using the TPMLE, was Lonnie Walker. I am not going to get too into him as a player. Plenty has been made about his shortcomings, but to expect him to be even average as a shooter or defender next season will be asking for the moon and the stars. This is the signing that took the wind out of my sails. If the Lakers were hell bent on getting a project that could add value, I would have used this exception on Jalen Smith (who ended up resigning with Indy for less than what Walker will be making). Jalen Smith is not a perfect player, but he's young, has the mobility to develop into a Jaden McDaniels type defender – as long as both Smith and the coaching staff are committed to developing this skill – and seemed to play much better (including as a 3 point shooter) after he was traded to Indianapolis last season.
But I'm not writing this to cry about what I didn't get. In fact, I think the Lakers can be commended for learning their lessons from last off season. This free agent class is much better just because they're significantly younger. With all due respect to last year's veterans, those guys tended to run out of gas – physically, mentally, or both.  This is why the injection of youth last year from Stanley Johnson, Austin Reaves, and even Wenyen Gabriel stood out. Just having a younger and quicker free agent group should equate to more wins this upcoming season.
Where to Go From Here
I'm fascinated with how the Lakers have been maneuvering the Russ situation. There have been two widely reported options and speculated third, fourth, and fifth options:
The Russ/Kyrie swap with the Nets, likely also returning Joe Harris. The Nets don't appear to be in a rush to deal Kyrie, especially considering they have zero interest in Russ. This route, at least currently, would also likely require trading away two first round picks.
The Russ trade for Myles Turner and Buddy Hield with Indy. I purposely put Myles Turner's name first because he's the more important player for the Lakers in this scenario, even though the focus by fans seems to be more on Buddy Hield.
There has been some speculation about the Lakers getting involved with Utah's fire sale. I want to dismiss this because, quite frankly, the only trade that would potentially move the needle with the Lakers would be for Pat Beverley and Bojan Bogdanovic. And I wouldn't even see this is as particularly significant.
There have been rumblings that the Knicks and LA have talked about a Russ for Julius Randle swap. In no world does this make sense for the Lakers, so let's put this to rest.
The latest reports on the internet are that the Lakers/Utah/Knicks discussed a 3 team trade at one point. I see Lakers fans speculating (and getting giddy) about Cam Reddish. Can the Cam Reddish hype train finally stop please? As we can see in the following table from the Player Profiles tab of the Leaderboards Tool at BBI, Cam Reddish's greatest NBA skill is that he physically looks like he should be a good NBA player:
The articles I'm reading suggest that the Nets and Kyrie may be making amends. I expect this to be a very real possibility if Kevin Durant does not get traded. Given that Durant still has 4 years left on his contract (and KD is a guy who will show up and play hard), if I'm the Nets, I don't trade him.  Unless the guy coming back is named Luka or Giannis, I just don't see why the Nets would move on without seeing how KD/Kyrie/Ben Simmons work together. They will also get Joe Harris back and have added TJ Warren and Royce O'Neale. Assuming good health, that's a very real title contender.
And from the Lakers perspective, as much as the team historically likes to big game hunt, I'd pass on Kyrie if the asking price is more than Russ and a pick (or if the Turner/Hield option is available).  Kyrie is a world class talent, but basketball doesn't seem to be a priority for him. If he was a world class talent who was like a Kobe or Giannis or LeBron and utterly committed to winning, I'd feel better about pulling the trigger. But if he was that way, his relationship with the Nets would be very different right now. Add these red flags to his poor defense and it's tough to talk me into this being "the move" for the Lakers.
The rumor is that the Lakers and Indy have talked about a Russ trade for Myles Turner and Buddy Hield. Reports suggest that the Lakers need to throw in another 1st round pick to make it work.  Thus far, the Lakers haven't been willing to.  And as much as I'd like to see this trade happen, I actually admire the Lakers for attempting to preserve their draft capital.
Big Game Hunting
There was a long stretch of time where the Lakers were big game hunting, striking out on free agents (LaMarcus Aldridge, Carmelo Anthony, etc.), and putting out a miserable product on the floor.  There was little to no strategy beyond trying to land a whale. The net result was a string of years of missing the playoffs. Fortunately for the Lakers, they failed their way to some high draft picks and were able to nab talented players (many of whom were traded for Anthony Davis).
But this feast or famine approach in a post-LeBron Lakers era won't be appealing to Lakers fans, and I doubt Jeanie Buss would be particularly excited about it, either. Lakers fans would be understanding of a rebuild as long as there is a plan. There is merit to building through the draft.  Memphis is loaded because of how well they drafted. Golden State drafted Steph, Klay, and Draymond. Boston drafted Marcus Smart (the pick before Julius Randle), Jaylen Brown (the pick after Brandon Ingram), and Jayson Tatum (the pick after Lonzo Ball). It's a way to get talent and upside on cost-controlled contracts.
True, in order for this to work, you either a) have to draft a star player or b)put together a team loaded enough that a star free agent will want to sign (one of the reasons Shaq said he originally joined the Lakers) or c) assemble enough compelling talent that can be traded for a star.
It's not always about drafting a star; it's also about drafting very productive NBA players – guys like Memphis' Desmond Bane or Minnesota's Jaden McDaniels. The Lakers actually drafted McDaniels, but lost in him in the Dennis Schroder trade. Still a tough pill to swallow (for a variety of reasons).
But we are in the LeBron James era. As important as it is for the Lakers to protect draft capital, it may be even more important not to waste one of LeBron's final years (future star free agents will notice this, too). So how dire is the situation with their draft capital? From 2023-2029, the Lakers will have 6 1st round picks and 7 2nd round picks. Losing 2 1st rounders to get Myles Turner and Buddy Hield isn't truly going to handcuff this franchise. If that's the cost of making it happen (1 1st rounder to take on Russ' contract and 1 1st rounder for 2 NBA starters), it sure seems like a good deal for LA.
Considering the Pacers Haul
Why am I high on this trade? In fairness, I really got sold hard by listening to a Lakers Exceptionalism Podcast. I recommend giving it a listen, but some things that stood out to me:
We talk often about how the presence of LeBron and AD help optimize the players around them. But with Turner and Hield, we can now talk about how the players around them help optimize AD and LeBron. Imagine having even better versions of AD and LeBron on the floor.
Turner's injury history is overblown.
With Turner and AD manning the front court, the Lakers can have an elite defense without really having elite perimeter defenders. Turner is mobile enough to stay on the floor with AD, so there likely wouldn't be scenarios in the playoffs where he doesn't play (like with Javale McGee and Dwight Howard in 2020).
Having a center rotation of Turner/Jones/and Bryant could help limit minutes for both Turner and AD, keep AD at the 4, and keep them both healthy. Having a healthy AD for a full season is almost like getting AD in free agency all over again. Think about that.
Buddy Hield has been misused at his last 2 stops. With LA, he can be optimized as a movement shooter. The bonus is that having plays for Buddy means there will be plays for Cole Swider, who I really hope gets minutes off of the bench.
Turner is 26, which puts him on AD's timeline. If successful, you have another guy you can keep long term.  If not, you can let him walk (or trade him at the deadline).
I've listened to a lot of the talking heads say that this trade wouldn't really move the needle for the Lakers. Oh yeah? Leveraging the BBall Index Lineup Creator Tool in the Lineups App, this is what the offense and defense would look like for this team using 2022 data (I would also argue that these are lower than actual because of expected improvement from Austin Reaves post-rookie year).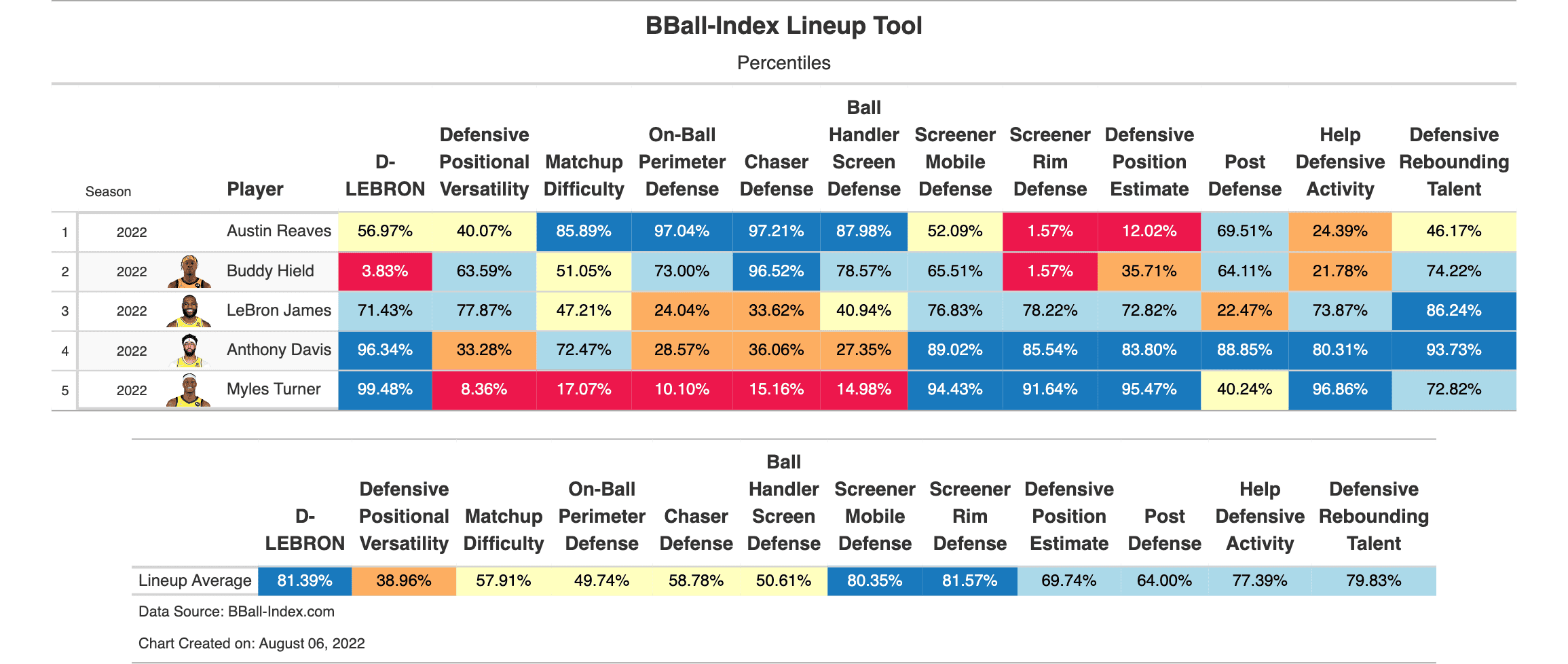 This may not make them a title favorite, but at least now the Lakers can executive difference making moves on the fringes to help get them there. For example, if you go back to Utah's fire sale, if the opportunity to flip THT for Pat Beverly presents itself, I think that's a worthwhile trade. Not only is P. Bev serviceable in a back up role, but he strikes me as the type of guy who works well in a locker room.
I also think that people are underrating what surrounding AD and LeBron with legitimate NBA starters will do for them. I guarantee that AD will be a lot better than he was last season simply by having Turner starting next to him (for comparison, see how having Marc Gasol on the floor unlocked things for AD).
And Lakers fans, I hate to discuss worst case scenarios, but if the Lakers have another season where this blows up and LeBron signals that he wants out, not only will the team have significant salary cap space in 2023, but if it comes to it, they can get a haul for trading Anthony Davis, especially if he shows he can stay healthy. Look at the outrageous haul Utah got for Gobert and what they might get for Donovan Mitchell. A healthy Anthony Davis is superior to both of those players. I hope it doesn't come to it, but if it does, it's not a bad worst-case scenario.