If you're looking for data, you've come to the right place! Our $5/month Data & Tools package gives you all the data you'll need to better analyze the game of basketball. From talent grades to player profiles, scoring impact data to versatility data, and even optimization ratings to player Gravity data, we have you covered!
Join writers and bloggers, NBA and WNBA team staff and scouts, NBA and international agents, and fans in consuming basketball in a whole new way with this Data & Tools package that costs you just about one cup of coffee a month!
Interested? Get access now by going here. Curious about a stat? Check out our Glossary!
Starting on 6/1/20, we have the following included in this $5 package:
Player Profiles – which break down our 11 talent areas in more depth with 220+ metrics and opportunities for 25+ badges
Position, Role, and Opportunity data – 22 data points
Player performance badges – players are eligible for 25+ badges
Context data around lineups played within, difficulty of matchups, versatility, and consistency – 10 data points
Perimeter Shooting data – 12 data points for each player, along with percentiles and letter grades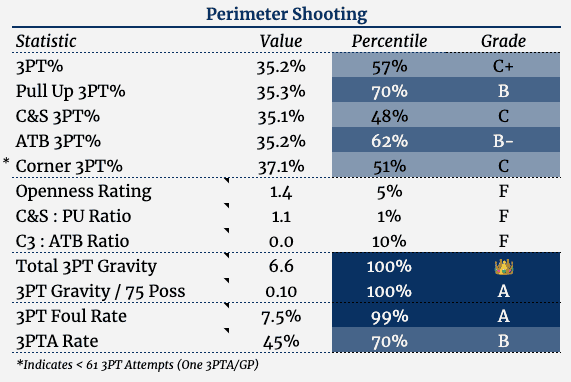 Off-Ball Movement data – 17 data points
One on One data – 8 data points
Finishing data – 9 data points
Roll Gravity data – 11 data points
Playmaking data – 8 data points
Post Play data – 15 data points
Offensive Rebounding data – 9 data points
Perimeter Defense data – 11 data points
Interior Defense data – 8 data points
Defensive Rebounding data – 8 data points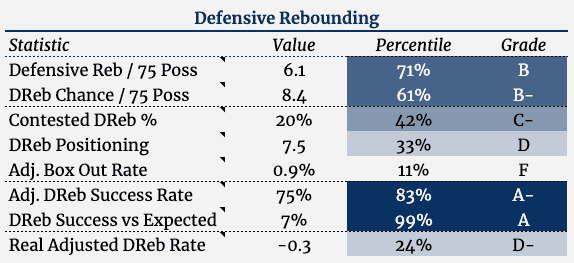 Impact Data (broken down by overall, offense, and defense) – 22 data points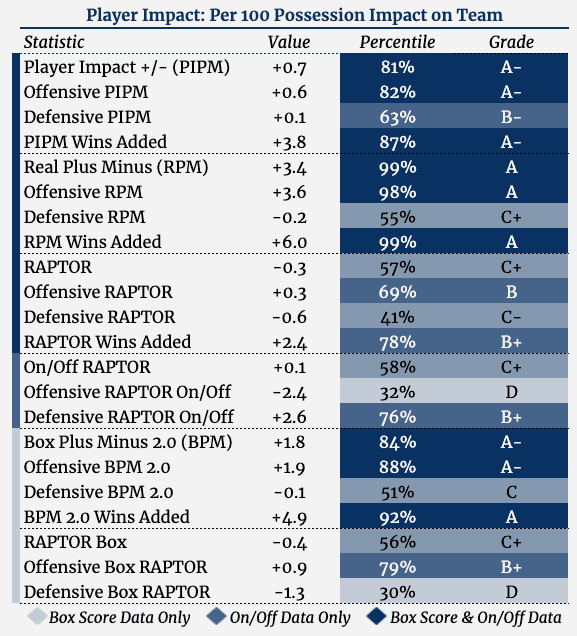 Production and DFS data – 9 data points
Efficiency data – 17 data points
Matchup data, by position, offensive roles guarded, offensive tiers guarded, and time guarding core players/starters/all-stars/all-NBA players – 26 data points
Player Profile Data Filtered vs Specific Peer Groups – see our full player profiles filtered against specific roles, positions, or minute minimums to recalculate percentiles and grades. For example, here is Nikola Jokic's Playmaking data against Bigs only: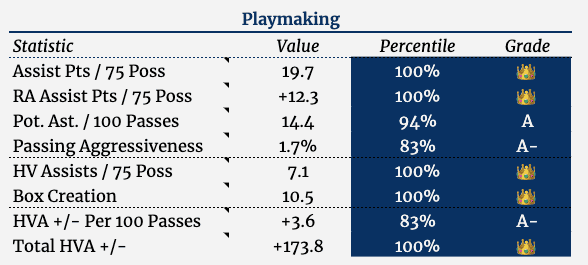 Player Profile Leaderboards – see leaderboards or "loserboards" for any of our 220+ stats, using up to 5+ filters, a team filter, plus the ability to set a filter with a second metric.
Player Talent Badges

Similar to what you'd find in NBA 2K, our data analysis enables assignments of badges for specific skill sets (for example, shooting well off the dribble)
Unlike 2K's badges, ours are purely data driven. That means that market size and player popularity have zero impact, and badges will be reassigned dynamically up to the game based on actual performances
Badges going back to the 2013-14 season are in the works
Gold, Silver, and Bronze levels are calculated for each badge. Once the full database from 2013-20 is calculated, Platinum/HoF badges will be added as well.
25+ badges are set up as of 6/1/20
Here's a sneak peak as just a few gold tier badges:
Impact Data Visualization – Leverage interactive Tableau dashboards with filters to compare players in different impact statistics (PIPM, BPM, RPM, and RAPTOR).
Player Profile Data Visualizations – Interact with our Player Profile data in a whole new way with our Tableau data visualizations. Filter by teams, role, impact, etc. and explore our profile data in a whole new spectrum to generate new insights.
Player Gravity Application – Gravity concept and data is explained here
2013-20 3D NBA Gravity charts, data, and year to year movement data
2019-20 3D NCAA Gravity charts and data
2017-18 3D WNBA Gravity charts and data
Versatility Application – utilizing data capturing the percentage of time on defense players are guarding opposing offensive players
Defensive Versatility by positions defended (PG through C)
Defensive Versatility by Offensive Roles defended (Pick & Pop Big, Spot Up Wing, etc.)
Time spent defending players by Offensive Options (tiers 1 through 6)
Time spent defending players by Usage Groups
Time spent defending core players (as defined here)
Time spent defending starters
Time spent defending All-Stars
Time spent defending All-NBA players

NBA Player Talent Grade Data & Tools – 7 seasons of data from 2013-20, with filters for year/position/role/minutes played for each tool to enhance analysis

Player Leaderboards and "loser-boards" for all 11 talent areas
Player Filtration Tool – pick any combination of grades and position/minute/year filters to query results
Player Comparison Tool – compare any 2 years of players by any filters
Single Year Player Finder – see a player's data for a year vs all players, as well as compared to the selected filter
Team Dashboard & Team Strengths – pull a roster's talent data, and see data and charts on their biggest areas of strength and weakness as a team and among their Guard/Wing/Big position groups (compared to other team position groups)
Team Summarized Data – see all 30 teams' weighted average talent data and how it stacks up
Team Guard/Wing/Big Group Summarized Data – see all 30 teams' weighted average talent data and how it stacks up for their Guard/Wing/Big position groups against other teams' position groups
Player Similarity Tool – select a player and see the players closest to them with their overall or offensive skill set
Player Style Similarity Tool – select a player and see the players closest to them with regards to how they're deployed
Player Growth Projection Tool – select a player and see how our age growth curves project their grades to grow/decline over the new few years, with their age and position taken into account
Multi-Year Player Finder – see a player's grade data from 2013-20, their "career" averages, and our predictive grades using multi-year data to project the rest of this season
Stabilized Scoring Impact Data – through looking at scoring volume and efficiency by play type (isolation, pick and roll, post up, etc.), we can show which players are scoring more points over expectation for an average player, all while stabilizing small samples to increase forward-looking accuracy

Data for the NBA

Single-Year Player Finder and Top Similar Players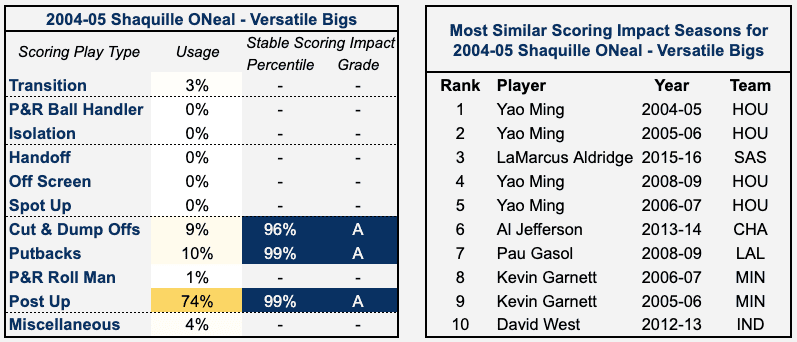 Expected Efficiency for Play Types by Role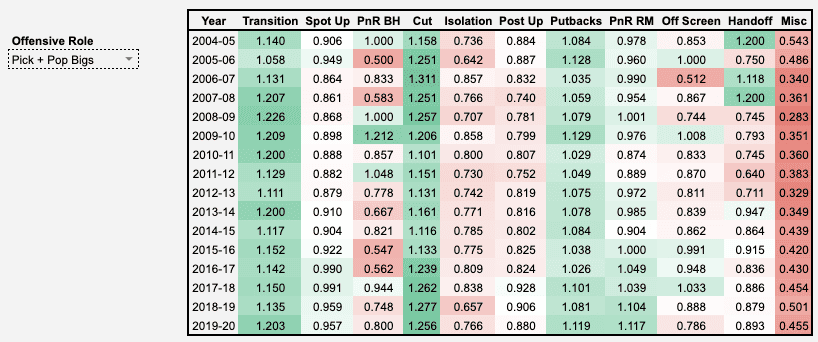 Data for the WNBA – in the works
Data for the NCAA – in the works
Data for international leagues – in the works

Player Development Coaching Staff Ratings – each player's development journey is different, but we've calculated age growth curves for each position for each talent area we evaluate. Comparing actual growth to that expected growth data over years, we're able to gauge which coaching staffs tend to see better growth in specific areas over time.
Basketball Style Comps Tools

Pickup Comps Tool – fill out how YOU play and see which NBA players you're most similar to
Prospect Basketball Comps Tool – select an NCAA prospect and see which NBA players they're most similar to
We're also continuously seeking to enhance each tool and database to be even better. We'll be adding to, polishing up, and further improving these existing offerings over time.
Interested? Get access now by going here.
Also, in the works and pipeline to add to this package as soon as possible:
NBA team defensive scheme estimates
Offensive roles and scoring impact data for G-League, WNBA, and international players
A brand new +/- system to evaluate players that better accounts for role and scoring impact, in addition to stabilizing small samples, along with a full suite of tools to play around with lineups, team comparisons, etc.
A comparison of offensive and defensive roles utilizing an RAPM style Ridge Regression analysis
A more robust offering of player badges
Matchup data, but for offensive players on the defenders they matched up against
Revamped talent grades utilizing more and better data than before
Revamped overall, overall offensive, and overall defensive talent ratings utilizing machine learning
And more that's in the works we'll tease once we're sooner to release
Some of those offerings are currently available in a Google Drive folder to enable interaction. We're actively working toward moving those to the BBall Index site itself and have several being touched up and close to launch, and expect to have updates on that front soon.
For the ones that are currently in Google Spreadsheets, we'll need to manually add your access. Access will be granted ASAP, but will be targeted to be executed no later than the end of the day you pay, or by noon the next day if your purchase is done overnight.
**Make sure to have a gmail account we can share access with either as your PayPal email, or reach out and we'll get you access after you pay**
Interested? Get access now by going here.