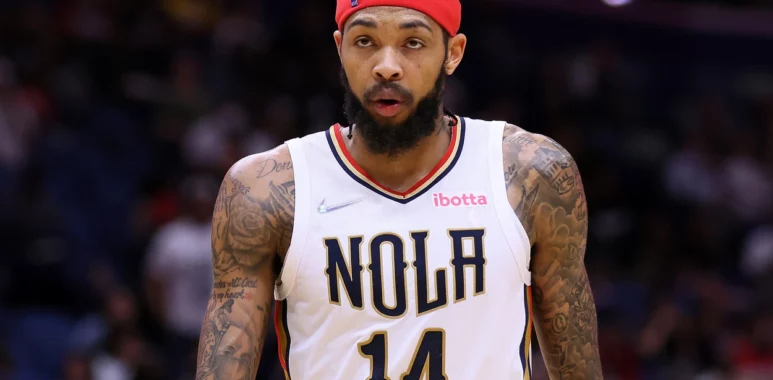 Can Brandon Ingram Be a Top 2 Player on a Championship Team?
I absolutely love Brandon Ingram.  And I still would have made the Anthony Davis trade 100 times out of 100.  Both of these things can be true.  It feels important to state because Ingram fans seem to have a hard time grasping this.  What they forget is that winning an NBA championship is hard.  You need extreme top-level talent and, no matter how good BI is/was, a healthy Anthony Davis is just better.  That might change, but for now (and back then), that is reality.
Ingram's impact has really exploded over the last couple of seasons, as his LEBRON data indicates:
His continued development is critical if the Pelicans truly aspire to be a legitimate championship contender.  I wouldn't have written this article if I didn't think it was a possibility.
Zion Williamson makes that possible.  It's still too early to tell what Zion "is" in this league.  He has such a unique physique – massively strong, freakishly athletic, and can jump out of the gym despite such a thick build (similar to Charles Barkley).  Zion came into the league being able to score with ease.  When he's healthy, he can yawn his way to 30 points per game at very high efficiency.  Zion. Is. Special.
And that's what makes Ingram's development even more critical.  Zion appears to have what it takes to be a number 1 player on a championship team (and this is VERY rare).  The Pelicans have done an excellent job filling out the roster – CJ McCollum, Herbert Jones, Jose Alvarado, Jonas Valanciunas, Larry Nance, Jr. etc.  So the question is whether Brandon Ingram is good enough to be the number 2 player on a championship team.  The answer is no.  At least not yet.
Ingram fans, before you absolutely lose your minds, let's take a look at some of the players who were the 2nd best player on a championship team:
Klay Thompson
Steph Curry (when KD was on the team)
Kobe Bryant
Magic Johnson
Anthony Davis
Kyrie Irving
Kawhi Leonard
Pau Gasol
Dwyane Wade
Shaquille O'Neal (in Miami)
That's an insane list.  Think of the all-stars who are not good enough to be on this list.  To suggest that the current version of BI is as good as this group is dishonest.  But he may have a path to get there.
First, let's take a look at what BI does well.  The data below compares him to all starters, starting wings, and starting shot creators.  His true shooting percentage is rather ordinary, but his shot quality has generally been garbage.  That should improve with both Zion and CJ on the floor with him next season.  Other than that, his shot creation, shooting talent, his ability to create & make his own shot, and his off-ball shotmaking are quite good.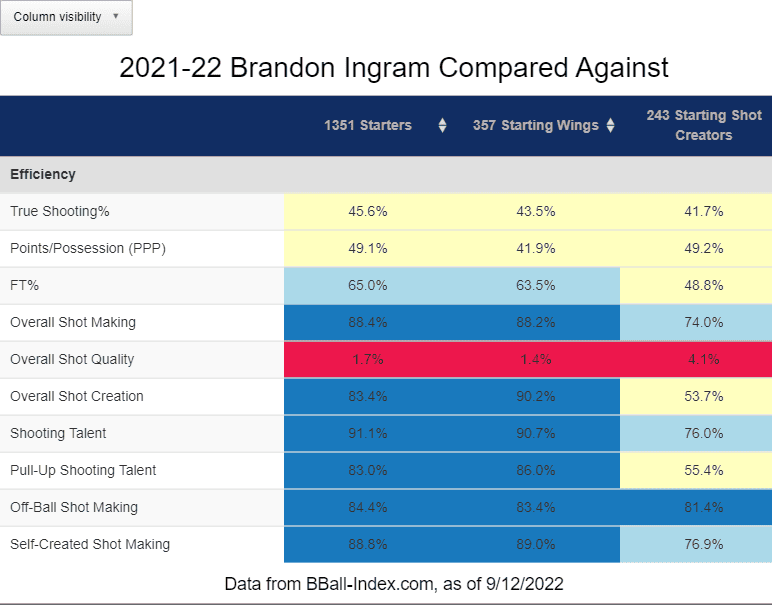 When Ingram was first drafted by the Lakers, Coach Luke Walton noted that Brandon was a very good playmaker and was encouraging him to make plays for others as well as himself.  At the time, I took this as coach speak for, "Don't just jack up a bunch of bad shots."  But as time passed, Ingram really did develop into a very good playmaker.  During this past season, there were many times he would bend the defense and then hit the open guy for high percentage shots.  The data from bball-index.com supports that this is indeed a strength of his: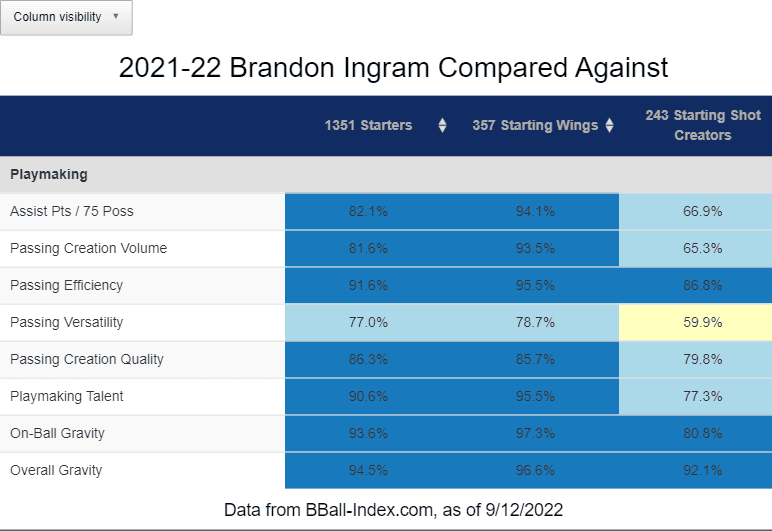 There are other nuanced areas we can look at where is above average, but I think these 2 tables do a good job netting out the majority of what makes him good.
A meaningful next step is to put his data side by side next to players who he has been repeatedly compared to: Kevin Durant and Jayson Tatum.  The Kevin Durant comparison is unfair because KD is 1 of 1 and arguable a top 10-15 player of all-time. But the comparisons had been made since BI was at Duke, primarily because they both were super skinny tall wings with long arms.  The comparisons with Tatum likely happen for 3 reasons: Tatum was taken the following year immediately after the Lakers selected Lonzo Ball, they play the same position, and they both went to Duke.
Looking at their percentiles in 5 key offensive areas (3 point shooting talent, middle game talent, one on one talent, playmaking talent, and finishing talent), you can see that Brandon Ingram is really, really good.  The other two guys are just better.  That's not a knock on Ingram.  Instead, I'm trying to show the slivers of difference between being an all-star and being a number 1 or 2 guy on a championship team.

Someone might look at this and think, "Brandon just needs to work on his 3-point shooting and finishing, and he'll get to that level."  Brandon Ingram is 25 years old.  He has been working on his 3-point shooting and finishing probably since he picked up a basketball.  The secondhand information that I have is that BI has been a very hard and very consistent worker since he has been in the NBA.  This is who he is.  There are so many physiological and mental factors that go into how well someone develops a skill beyond just hard work.  That's why Steph Curry is Steph Curry; he's got an extra "something".  No amount of effort would make other NBA players as good a shooter as Steph Curry.
Ingram's shot quality should improve with both Zion and CJ on the floor next year (which should improve his shooting percentages), but to expect a leap in shooting talent is unreasonable at this stage of his career.
Now we take a look at the other side of the ball and yikes!  BI has been a disappointing defender.  Looking at the players' D-LEBRON percentile, we see that Ingram is light years behind the other two.  Even in a Low Activity role (which means he's basically guarding the worst opposing offensive player), his defensive impact is worse than almost 56% of the players in the NBA.  Ingram is 6'9" with a 7'3" wingspan and is quite mobile.  As I wrote about here, these are the types of guys that need to be the difference making defenders on their teams.
The good news is that this poor showing is actually a major jump from last year.  In fact, if you look at his career, the only time he has posted a D-LEBRON in the top 50 percent of the league was during his 2nd season in a helper role.  His jump this past year may have been due to a coaching change from Stan Van Gundy to Willie Green.  If so, I'm encouraged that BI can continue to make jumps if the coaching staff continues to develop him and optimize him in defensive schemes.
If we dig further into the defense data (on-ball defense, ball screen navigation, rim protection, and off-ball chaser defense) and continue the comparison with Tatum and Durant, it's tough to find a defensive skill that stands out for Brandon.  This data is also telling in another way.  While Durant's D-LEBRON was a lot better than Ingram's, his only stand out skill was Rim Protection.  This is a big deal because it can inform a development plan for Ingram.  Rim Protection is the stat that seems to have the highest correlation with defensive impact.  Even Tatum, who isn't a crazy athlete, is in the 76th percentile for Rim Protection (and almost the 89th percentile for D-LEBRON).  None of these guys are world beaters on-ball.

Brandon Ingram becoming a top quartile defensive player shouldn't be a pipe dream.  He has shown flashes throughout his career.  In fact, after a game in February, 2019, in which the Los Angeles Lakers played against Kyrie Irving and the Boston Celtics in Boston, Irving attributed his poor shooting night to Ingram's defense.  Irving, one of the greatest ballhandlers in history couldn't get open against a very young BI (source: https://lakersnation.com/celtics-kyrie-irving-praises-brandon-ingram-lakers-defense-closing-down-the-lane/2019/02/08/).
Also, here is my favorite all-time Brandon Ingram highlight, which showcases some of his physical tools:  https://www.youtube.com/watch?v=lS3bOOj-InA&t=6s
His physical profile is a huge advantage and should be leveraged regularly on the defensive end.  In addition to his physical profile, he's a highly competitive trash-talking player.  Everything about his make-up screams "elite defender".  If this doesn't materialize, it would be a waste of tools.  Offensive players should regret having to face Ingram and Herbert Jones on the wing.
If last season's leap in D-LEBRON was any indication, the right coaching staff is in place to help Ingram continue to develop in this area.  If Ingram is able to make the eventual leap from 44th percentile to 75th percentile in terms of defensive impact, while going from a low activity defender to a guy you want locking up one of the other team's top wings, then maybe you can start talking about him as potentially being the 2nd best player on a championship team.
Maybe that's an unfair expectation to put on Ingram.  Fans often are either unrealistic (my guy is the best!) or unkind (this guy sucks!).  Let Brandon develop and be who he is, and however that plays out, he will continue to be a joy to watch.