Brandon Ingram: player development at the NBA level
Brandon Ingram has been on a scoring tear lately. For some, that may come as a surprise. For others, it's expected.
How did it start for Ingram?
Ingram's first games at Duke weren't spectacular. He was able to compete, despite being more slender than he is now. But even against easier competition, there were some question marks about him adapting to the college game.
It took him a solid month to get comfortable with the level of competition. But unlike most one-and-done prospects, his role would shift.
Evan Daniels had Mike Krzyzewski as a guest on "The Sidelines with Evan Daniels" podcast and Coach K explained some of his role changes:
"We had him in a position where he could bring it up the court or play against the four. We always tried to take advantage of matchups. I'm not sure that he'll be afforded that opportunity right away, if ever, in the pros. So there will be a period of adjustment for him, but I think he'll do fine."
As the season went on, things eventually did work out. Ingram's isolation points per possession (0.94) was higher than Kevin Durant in college (0.88). Yet as an evaluator, it was tough to hand his NBA skills in one specific aspect. He wasn't an elite ball-handler for his size. He wasn't an elite passer. He was a solid shooter at the collegiate level, but film would point out how the shooting wouldn't translate to the NBA level immediately, at least not in the way that it would for Jamal Murray or Buddy Hield of the same draft class.
However, it was clear that Ingram found ways to succeed, even with changing roles on the team. NBA success may not come overnight as Coach K predicted, and he was proven right.
His Rookie NBA Season
As expected, there was a lot of adjustment for Brandon Ingram. NBA physicality is a different level, and Ingram was already behind at the NCAA level. It wasn't exactly clear how he'd make himself into an effective NBA player. What path would it be? Slashing? Shooting? Playmaking? Eventually he'd have to find a way.
The first half of the season was particularly rough. The Lakers didn't exactly make it easier with their point guards being so inexperienced with rookie D'Angelo Russell and second year Jordan Clarkson. Lou Williams salvaged that season with his incredible scoring ability, but he's a scorer first, playmaker second.
Through 60 games of the regular season, while earning roughly 30 minutes of playing time, Ingram scored double figures in 20 of his first 60 games.
Then, Laker fans saw this:
Ten games into a starting role, and Laker fans saw a culmination of his budding skillset work in sequence.
He snaked a pick-and-roll on Jrue Holiday, changed directions on Montiejunas, planted his foot at the bottom of the circle, and posterized fellow rookie, Cheick Diallo.
Fans finally saw some emotion out of him on the floor. A wealth of build-up over a frustrating season came venting out in one confidence building play.
Brandon woke up.  
In 16 of the last 17 games, he reached double digit scoring, shooting above 50% from the field in 10 of those games.
The Leap
Laker fans didn't see the leap during the 2017 season. They saw the leap during Vegas Pro League.
Brandon Ingram may have missed the game winning shot, and sat the rest of the game with a leg cramp, but we watched him be aggressive off the dribble again to tie the game.
Then, on the following possession, he utilized his length, kept his hands up, and was disruptive defensively to gain possession.
While the leap was made in the summer, how did it translate to the NBA level?
It was close to that of De'Aaron Fox's leap this season for Sacramento.
Brandon Ingram:
De'Aaron Fox:
While Fox is a primary ball-handler for the Sacramento Kings, it is strange to see the similarity in improvement from TS%, FTr, rebounding rate, assist rate, and block rate, all while reducing turnover rate in increased overall USG.
During this year, Ingram flashed playmaking skills while Lonzo Ball was out. This was a different kind of improvement, one that was more subtle, where the details were laid out in how he pushed the ball after a made basket, took advantage of smaller defenders off-ball near the hoop, and flashed consistent vision in finding the open man.
He did an amazing job succeeding in a different role, again. This time, in Lonzo Ball's absence.
Where is he now in this stage of development?
This season, he's finding who he is as a player. During the previous two seasons, it's been tough to identify what he does best. His point forward skills weren't always consistent. His slashing skills were mostly straight-line. Three-point shooting didn't carry accuracy with the volume.
Now? We know he's the captain of the mid-range area. He knows how to get downhill in the half court, and utilize his length around the rim.
Some of this was covered in the article, "The New, Old School Brandon Ingram" right here on BBall Index, where the big change happened in the first week of January and has carried all the way through March. There, his adjustments and shot charts showed an increase in true shooting percentage, even in LeBron James' absence.
He's no longer linking basic skill sets to make plays happen. He's revealing changes in game, before our eyes.
He has never looked so decisive.  
His first bucket, he just elevated over Bledsoe.
His second bucket, he waited for the clear out, then drove on Bledsoe.
But there were several changes in Ingram's game that occurred against the Bucks.  
First, was this transition play. Not only was he in control and gathered his steps for the pull-up jumper, but there was extra arc on the jump shot to erase some of the forward momentum that causes these shots to miss long.
Then on this drive in semi-transition, he changed directions on the defender. This is a big adjustment from his off-beat, straight-line drive to the basket.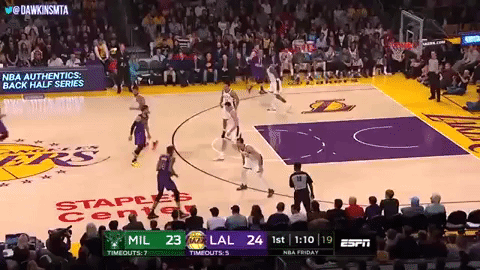 Ingram got his downhill space cut off, but this time he countered with a spin move to get a short fadeaway jumper 5' from the hoop.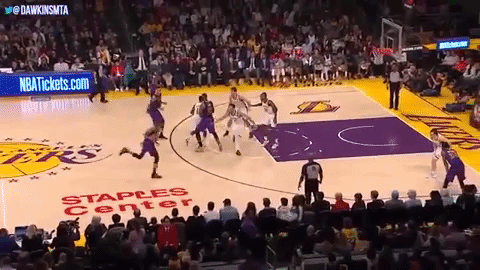 Then, it all went full circle, with the dunk that started this journey.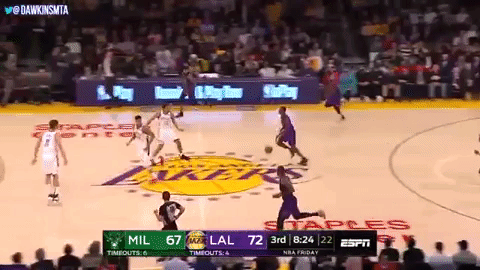 Throughout the game against the Bucks, he saw multiple defenders, including some of Milwaukee's best. Middleton had issues. Bledsoe had issues. If there's one more leap left then he'll find himself being defended by Giannis and see how effective he can be against the best.
The Road Ahead
After a transformative year from his rookie season to his second season, Brandon Ingram still has a long way to go. For those that were high on Ingram's potential out of the draft, this was likely the guy they were looking for.
And sure, he could still be a more decisive passer. He could add more strength. He could shoot more threes with even league average accuracy. He could add more shake to his drives, so that he doesn't need that downhill space in the half court anymore.
All of that is achievable if Ingram puts in the countless hours behind the scenes in the gym. But after watching Ingram improve for over 2-and-a-half seasons, what makes anyone think he won't get there?