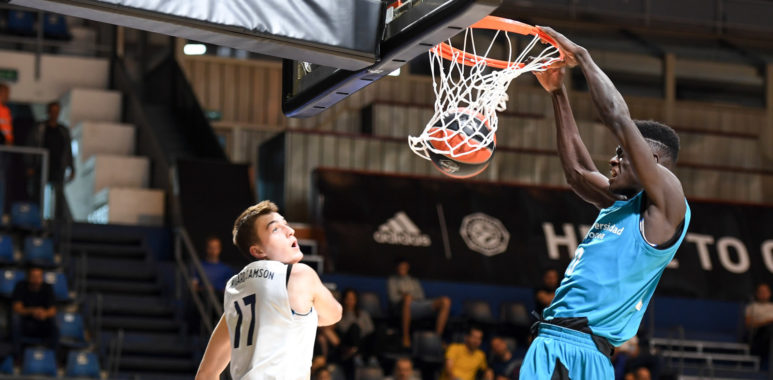 Basketball Without Borders: Scouting Amar Sylla
Another relevant event for looking at the best international prospects is Basketball Without Borders: the NBA and FIBA's global basketball development and community outreach program. More worldwide than the Adidas Next Generation Tournament, because of his 52 BWB camps in 32 cities in 27 countries on six continents since 2001.
While Deni Avdija shined again as the MVP of the event, among the players who attended at the Queens University of Charlotte Levine Center for Wellness and Recreation, there were some modern bigs with a perimeter game in the making. Amar Sylla – who also participated at the ANGT in Munich – from Real Madrid, filled this category.
WHO'S AMAR?
Amar is a 6'9'' center/power forward from Senegal, who's currently playing with Real Madrid II, alongside other big prospects like Garuba and Mario Nakic. He started to play basketball three years ago, which is quite shocking, considering that he already began to transition his half-court game out of the paint and the mid-post.
Even if comparing his strengths to Gianni's game as he did in this interview for Draft Express seems too much, there are similarities with young Giannis.
BALL HANDLING
Sylla is not used to pushing the offense by himself with Real Madrid. How he mostly works is as a rim runner: filling straight lines, catching lobs, finding a mismatch in early seal situations. At the BWB he got the chance to show his handles and how he controls the ball.
Head up is a good sign, he's left-handed but he can dribble decently with the right too. He should develop some "East-West" moves to create separation using the angles on the court.

SWITCHING
Among the other 17 years old prospects, he's 2-3 steps ahead on guarding multiple positions. At the Adidas Next Generation Tournament in Munich, his ability to cover space multiple times in the same possession impressed a lot of scouts, also because he was doing that moving smartly: no waste of energy or missed rotations.
Look at his first sprint from the top of the key to the paint to contain the ball handler. He's figuring out there's no protection, then he switches on the perimeter, slowing down another dribble drive towards the rim.
QUESTION MARKS
Building a solid shooting form requires more than three years. Looking at Sylla's shooting charts at the ANGT, he took four shots out of the paint, making just one of them. He attempted one three-pointers all over this season with Real Madrid II. Extending the range is not a priority right now, but if he could rely more consistently on a jumper, he would be more effective on post-ups.
Step-back motion is weak, no real separation created, not aligned feet with the rim. Sketchy form on the three-pointer, too low arch.