As the 'Fro Flies – A Jarrett Allen Story
Jarrett Allen has a knack for landing on the highlight reels. His dunks are ferocious. He blocks everyone, including your precious kings and Greek imports. He rocks the best afro in a generation.
Dude was designed to be on the cover of NBA Street Vol. III.
To that end, after blocking LeBron's dunk attempt earlier in the season (only the 9th time in LeBron's career he has been blocked attempting a dunk), Allen was asked post-game if he ever has any fear when he is about to challenge someone at the rim.
His answer was basically "no matter what I'm going to be on a poster. I'll either block the guy or get dunked on, but I'll be on a poster, so I just go up."
Here is Jarrett Allen's presence on a basketball court summed up in 20 consecutive seconds of game action.
In his second season Allen has shown off his talents above the rim, both offensively and defensively. However, he has not shown much growth in relation to his rookie year, and his reputation as a rim protector may exceed his actual impact.
According to our grading system, Allen has largely remained the same player he was as a rookie.

It is also important to note that these grades are among all players. While there are some small strides being made, we will exam how Allen lags behind among other bigs in categories with a higher importance for the position.
Rim Running
Allen is fantastic as a diver in pick n' roll. He has elite roll gravity according to our grading. This absolute posterization of Lauri Markkanen is from last season, but utterly indicative of how thunderous Allen's dunks are.
If you look up the word "violence" in the dictionary, there is actually just a GIF of this dunk where the definition should be.
As noted by his roll gravity and finishing grades, Allen excels as a rim runner and lob threat. Allen stands 6'9″ without shoes and sports a 7'5.25″ wingspan, a 9'1.5″ standing reach, and a 35.5″ max vertical leap. There are certain heights at which defenders simply cannot challenge an alley-oop.
Allen also displays good body control, flashing an ability to fluidly dunk an off target pass.
The beauty of basketball is that the separation between players is the ability to operate in the tiniest of crevices. There are 10 larger-than-life human beings stuffed into court dimensions that haven't been updated in 72 years. The less room you need to get off your shot, the more agile you are to evade a defender, the quicker you are to turn a corner around a pick, the more you bring to your team.
Allen has a feel for spacing within limited space. He rolls or dives to the basket without ever bailing out a compromised defender by remaining too close. But he doesn't stray too far, and is always in the right place once his teammate has an advantage.
The final piece of what makes Allen good in this area is the soft touch he has displayed around the rim.
Rim Protection
LeBron, AD, Giannis, Blake Griffin. This year Jarrett Allen has just been collecting bodies defensively.
All of these demonstrate Allen's incredible natural timing for challenging shots at the rim, but let's hone in on the second block of Anthony Davis. Of all the highlight blocks, this is the one where Allen isn't standing by the basket waiting as his opponent drives downhill. Allen is in a disadvantageous position behind Davis, where Davis has an easy path to the basket. Yet Allen can still time his jump properly and extend his go-go-gadget arms to erase the shot.
Also, Jarrett Allen would have made one heck of a volleyball player.
But this is the problem with YouTube/Twitter scouting. For as many highlights as Allen produces, he isn't the best rim protector in a broader sense. If we define high volume rim protectors as players that have appeared in at least 20 games this season, and defend at least an average of 4 shots per game within 6 feet of the basket, Allen is 27th in defended field goal percentage on such shots.
This shows in our grades as well. While overall Allen is sporting the A- interior defense grade you saw pictured earlier, that grade drops significantly when compared to other bigs.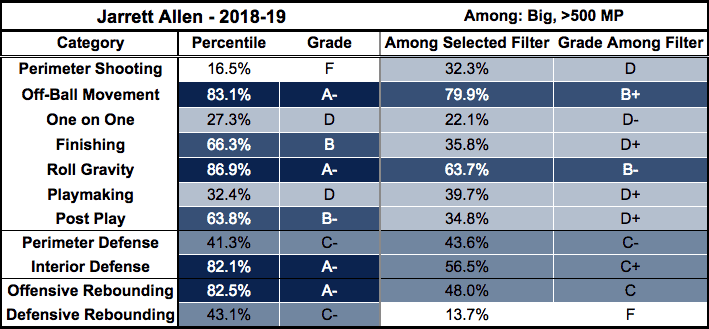 Allen doesn't appear to have the functional strength at this point in his career to bang with back to the basket centers. Opponents are able to knock him backwards and get to their spot.
This apparent lack of functional strength hinders Allen in another major area important for a big.
Defensive Rebounding
As shown, Allen is grading as a C- as a defensive rebounder among all players, which is not great for a big. Worse, or more to the point, he is an F in the category among bigs this season.
For the year, Allen is 28th in the NBA in defensive rebounding percentage among players that have logged at least 500 minutes. That sounds not half bad until factoring in that, of the players above him, only Russell Westbrook is not a big. This would put Allen 27th in defensive rebounding rate among bigs. That's not ideal.
The lack of defensive rebounding and true rim protection is borne out in the data as well. Among centers, Allen ranks 40th in D-PIPM and 30th in DRPM. Among any type of big, Allen places 47th in DPOE percentile. If Allen is to become a core member of the next Nets playoff team, he needs to improve in these two areas immensely.
Post Play
The other area where it would appear there is an easy path to improvement is post play. In case you're wondering why you can't think of a single time Jarrett Allen posted up his defender, it's because he never does. Allen is averaging 0.3 post ups per game this season. While no one is advocating the Nets increase the frequency of an inefficient shot, were Allen to develop a simple drop step hook shot, it would help this offense.
Brooklyn has a lot of play finishers and not play makers. Allen rolls to the basket and dunks. Joe Harris catches and shoots. DeMarre Carroll can catch and shoot or drive upon receiving a pass against a scrambling defense. Other than Brooklyn's point guards, there aren't play makers on the team.
It would be nice if here and there the Nets could come down the court and dump it into Allen and let him go to work. He has displayed touch around the basket during his time in the league and is a 75.7% free throw shooter, which is pretty good for a true center.
Again, this is an area where he significantly trails other bigs. He is sporting a D+ in post play this year among bigs, consistent with his D grade among the position in the category last year.
There is hope it is a lack of opportunity. Last year, Allen hit 21 of 37 hook shots in the restricted area. Among all players that attempted at least 30 hook shots in the restricted area last season, Allen's 56.76% field goal percentage was 2nd best in the league.
Such data is a small sample. The counter is if coach Atkinson had any confidence in the play he would run designs for it more often. Whether or not Allen is truly capable in this department, we need to see him expand his game in this area.
Overall
Allen really is one of the most entertaining players to watch in the league. One way or another he will end up on a highlight by the end of any given game. For the 22nd pick of the draft, Brooklyn really got a quality return on its investment.
Allen still has two more years of cost control after this season before reaching restricted free agency. He has the potential to be a building block and core of the next great Nets teams. With that said, there are still holes in his game in important areas for the position he plays. These need to be addressed and it is mildly concerning he has not shown progress 50 games into his second year. But the ability is there.