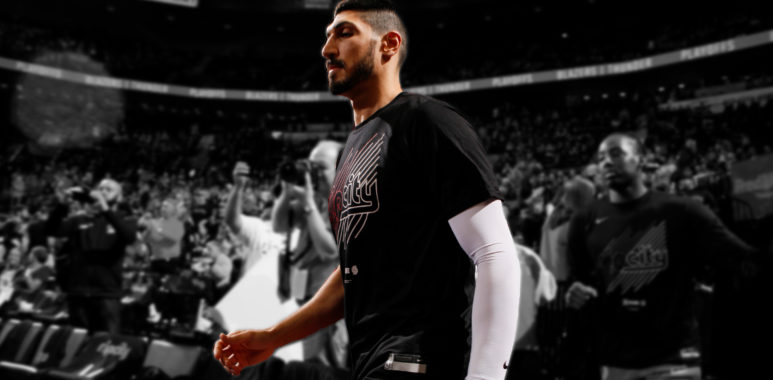 Oklahoma City Thunder
Portland Trail Blazers
4 details to watch for in Blazers vs. Thunder game 2
The Trail Blazers beat the Thunder on Sunday behind a strong effort from Enes Kanter (20 points, 18 rebounds) and some poor shooting from Paul George (4-for-15 on 3-pointers). Now that the smoke has cleared, let's take a look at four quirks from game one that could play a role in deciding game two:
The Thunder's offensive fouls
The referees called game one tightly, ringing the Thunder up for multiple offensive fouls and not allowing Terrance Ferguson to interfere with CJ McCollum's freedom of movement. A couple of the calls, while probably correct, could have gone un-whistled:
By nature of their aggressive and physical style, the tighter officiating hurt the Thunder more than the Blazers. Oklahoma City will have trouble in game two if the refs, again, set a tone that prevents them from relying on Westbrook's down-hill athleticism to overpower defenders and a Seattle Seahawks-esque "you can't call every foul" physicality on defense.
2. Lillard shot a corner 3-pointer?!
Damian Lillard rarely dabbles with short corner triples; barely two percent of his shots this season came from that area. He's usually at the top of the key helming the offense and doesn't find himself so peripheral to the action that he can drift into a corner.
So it was surprising to see the Thunder lose track of Lillard for a wide open corner triple in the first quarter:
Lillard's three was part of a hot-shooting barrage that saw the Blazers score 39 points on seven 3-pointers in the first quarter. After that, however, the Thunder calmed down and clamped down defensively:
Blazers were 4-for-15 from 3 after the first quarter in game 1 and bench scored 6 points in final 32:46 of the game. Thunder got blown out in the first half, but their defense really locked down after that.

— Eric Griffith (@EricG_NBA) April 15, 2019
Whether or not the Thunder defense is strong enough to avoid lapses that leave freaking Damian Lillard open, and instead play defense like they did in quarters two through four, may decide this game.
Lillard vs. Westbrook: Efficiency battle
Despite the open look posted above, and two long bombs from the logo, Lillard shot only 4-for-10 on 2-pointers in game one. This continues an alarming trend for the Blazers star, he's shot an abysmal 39.8 percent inside the 3-point line in the playoffs since 2016 and hasn't posted a playoffs eFG% higher than 48.3 since 2014.
Westbrook, on the other hand, is, well, literally being compared to "poo" for his shooting.
Despite some poor shot selection from Westbrook, Westbrook and Lillard put up TS% of 58.5 and 61.5, respectively. If either of those players deviate much further from their sweet spots, the resulting drop in efficiency could easily doom their team.
Grant vs. Collins: Defensive experts
Zach Collins looked completely lost in game one — I swear, we were about two plays from a "Can't play Collins" close-up on Terry Stotts after several preventable blunders:
Meanwhile, Jerami Grant played like the all-defense, no-offense forward that the Blazers wish Collins would become. Grant only scored 8 points, but he had 4 blocks and his defense played a major role in closing the first quarter gap. With Paul George going 4-for-15 on 3-pointers, Grant was probably the most effective forward in the game for either team. The Blazers will hope to get even half of that from Collins.